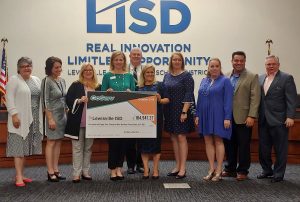 By Leopold Knopp, Contributing Writer
It's late October in North Texas, and the cold fronts are starting to roll in. Most everyone knows the feeling of putting on your winter coat for the first time of the season and finding a crisp $20 bill you'd forgot you had.
At its regular meeting on Oct. 21, Lewisville ISD found almost $20 million.
District CFO Mike Ball's monthly financial report, which included the full unaudited numbers from fiscal year 2019, which ended Sept. 1, show that, while the board initially passed a budget with an $8.5 million deficit, the district ended the year with its general fund almost $10 million ahead of where it was last year, a swing of $18.5 million.
Ball explained the difference developed partially because of the state's restructuring of school finance this legislative session. The district was thrown into the state's "Robin Hood" recapture program after discovering an unexpected drop in enrollment in December 2017, and the FY 2019 budget set aside money to send back to the state. However, new laws changed that calculation and reduced the amount LISD had to pay by more than $4 million. Uncertainty surrounding what state laws would look like once the legislative session ended in June has affected the school district budget process across Texas. Ball also said federal revenue was higher than expected.
"The way that works is, we submit the claims and they get backlogged in the federal system, and then all of a sudden they process a bunch at one time, so we received about $4.2 million in federal funding that we didn't anticipate receiving this year," Ball said.
Board Vice President Tracy Scott Miller, who argued adamantly in the summer of 2018 to give teachers a 3% raise instead of the 2% that was recommended by administration and eventually passed by the board, said it's good to have more money, but this was money he'd wanted to spend.
"Clearly, it's great news we're going to put $10 million back in the fund balance," Miller said. "The downside is we fought really hard and could have given teachers a big raise last year, which was a big topic of discussion … This is one that surprises us. Again, it's positive, but I think it kept us from doing some things we would have liked to have done."
But an $18.5 million difference between actual expenditures and the adopted budget should not come as a surprise. In fact, going back through the district's comprehensive annual financial reports, which are available on the financial transparency page on the district's website, an $18.5 million difference actually pretty small.
After audits, which have not taken place yet for the FY 2019 budget, the district ended FY 2018 having spent $5.8 million more than planned in the adopted budget, but from 2017-2011, which is as far back as the data goes, the district ended the year with a positive general fund balance every year except FY 2013, after passing a deficit budget every single year.
In FY 2017, the district ended up $12.3 million in the black after passing a deficit budget of just over $9 million, a swing of $21.35 million. In FY 2016, it ended up $4.9 million ahead after passing a deficit budget of $15.9 million, a swing of $20.8 million. In FY 2015, Ball's first as district CFO, it ended up $8.1 million in the black after passing a deficit budget of $18.7 million, a swing of $26.8 million. Fiscal years 2014, '13, '12 and '11 show swings of $25.9 million, $17.3 million, $31.1 million and $28.4 million, respectively.
The district also found some extra coin during public addresses, when electric co-op Coserv announced a donation of $184,947.37 to the district. The donation was presented as a novelty check by community engagement coordinator Mario Zavala and Coserv board member and former LISD trustee Tricia Sheffield.
The district did announce raises at the meeting for special education instructional support staff. According to background material, the district has been having trouble filling instructional support positions, with 18 vacancies as of mid-October, most of them in special education. The board approved a $1,200 retroactive salary increase, which assistant superintendent of employee services Buddy Bonner said this raise moved the district's pay grade to 120% of the market for these employees.
The board requested 29 class size waivers for elementary school classrooms 4th grade and under with 22 or more students, as required by state law. Of the 29 classes, 24 of them currently have 23 students, four have 24 and one has 25, according to background material.
The board approved spending just over $10 million in 2017 bond money on its consent agenda. This included approval of a guaranteed maximum price of just over $7 million for the Central Elementary School 20-year refresh and just more than $3 million in additional money for the Degan Elementary 20-year refresh, which had a GMP set at $7.6 million but ran into unforeseen architectural issues after drywall was removed inside the building over the summer. Backup material notes that the building is currently safe for occupancy. Several projects associated with the 2017 bond package have come in under budget.
The board also granted temporary construction and sanitary sewer easements for the City of Lewisville so it can repair a sewer line in the far northeastern part of Creekside Elementary School.
The Lewisville ISD Board of Trustees meets monthly at the LISD Bolin Administrative Center, 1565 W. Main Street, Lewisville, usually on the second Monday of the month at 6 p.m., with open session starting at 7 p.m. These meetings are open to the public.