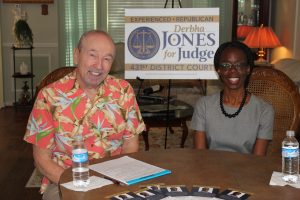 There are many elective office positions that will be on the ballot in the March 2020 primary. Among them are a few judgeships. One of those is the 431st District Court in Denton County. Jonathan Bailey, the current judge of the 431st Court, has decided not to run for reelection. One of the most valuable elements of our justice system is the courts, in which every citizen who has been arrested in a criminal matter, or sued in a civil case, has the right to a hearing and a fair trial by a jury of his/her peers.
Although most people will never be compelled to make an appearance in the austere surroundings of a courtroom, those who may find themselves in such a situation should know something about the way the system works. Each state has its own penal codes and court structures that run the gamut from family, criminal, civil and appeals courts. Derbha Jones, who is running for the Republican nomination for Judge of the 431st Court, came over for an interview to tell our viewers something about her background and explain the duties of a District Court Judge. Ms. Jones has a campaign website: www.derbhajonesforjudge.com Ms. Jones also sent her bio:
"I was born in Monroe, Louisiana to hardworking, Christian parents. Although they did not complete high school, my parents always provided for me and my siblings so that we could pursue an education and a better life. Not only that, my parents made sure that my brother, who was born with hydrocephalus, physical and intellectual disabilities, was well taken care of in the home. The needs of all of their children were met through their hard work and love as parents. I graduated from Northeast Louisiana University with a degree in Radiologic Technology.
"Soon after marriage to Reginald Jones, and the birth of our first child, we moved our family Texas and began new careers. Since the age of 12, I had dreams of becoming an attorney. After 18 years working as an x-ray technologist, the opportunity came for me to attend Texas Wesleyan School of Law evening program. My husband and I worked full-time while I was attending law school and we made sure that our two daughters were taken care of during that time. I graduated from Texas Wesleyan School of Law (now Texas A&M School of Law) and was admitted to practice law in Texas in 2002.
"Seventeen years after hanging my shingle on a one room office, I have built a reputation in courtrooms across North Texas as a fierce advocate for the weakest and most vulnerable among us – abused and neglected children. I am one of only 16 attorneys in all of Texas who are Board Certified by the Texas Board of Legal Specialization in both Family Law and Child Welfare Law. I am also a child Welfare Law Specialist with the National Association of Counsel for children and a National Certified Guardian with the Center for Guardian Certification. I live my life as a testament to my passion for helping children in need as well.
"Reginald and I have been married for 34 years, We have three children, — Ashley, Taylor, and Joshua, a granddaughter, Kylie, and we are foster parents for a child. Ashley is a graduate of the University of North Texas and the UNT School of Law. Ashley is a successful attorney in her own right in Dallas. Taylor also graduated from the University of North Texas, and is now in her final year of Veterinary Medicine School in Champaign Illinois. Joshua is a student at Sanger High School, and Kylie just turned 6 years old.
"We serve as foster parents for a child that we hope to adopt as well. I am a former Republican Precinct Chair for precinct 1000. I am a member of the Denton Republican Women's Club, Texas Strong Republican Women, and a member of the Flower Mound Area Republican Club. In addition, I am a sustaining supporter of the Denton County Republican Party. I believe in practicing what I preach in my professional career as well as in my personal life, in the manner that my parents instilled in me. All dreams are possible and I have lived to see a lot of my dreams come true."