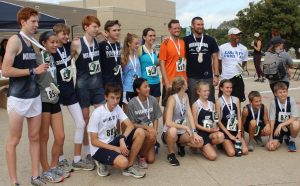 Local nonprofit Winning The Fight ran the organization's sixth annual Stompin' Stigma 5K late last month in an effort to raise awareness to the stigma associated with mental health and addiction.
County Commissioner Bobbie Mitchell delivered the invocation and Denton County Judge Andy Eads provided a proclamation declaring the day be dedicated to addiction awareness. The Liberty Christian Cross Country Team was there to show their support and give other runners some healthy competition.
Winning The Fight was started by Ben and Kathy O'Keefe after losing their 18-year-old son, Brett, to an accidental drug overdose. The organization provides drug education to the community and support and resources for families.
For more information, click here.