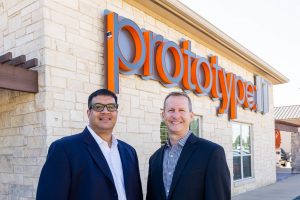 Prototype:IT, one of the largest Managed Service Providers in the DFW area, announced this week plans to relocate its headquarters office from Flower Mound to Lewisville early next year.
The firm has acquired a former Lewisville School District administration building, located at 400 Main St. in Lewisville, and plans to completely renovate the building's interior and exterior, according to a news release from the company.
"Our new corporate office location will allow us to accommodate the continued growth of both our customer base and employee team," said Doug Oppenheimer, CEO and Founder of Prototype:IT. "In addition, we'll be able to provide more local employment opportunities, create a unique work environment for our employees, and bring new events and energy to our neighboring city of Lewisville."
The renovated 23,000-square-foot office will feature energetic workspaces, increased conferencing space and state-of the art lab environments for the research and implementation of best-in-class technology solutions.
"In 2020, Prototype IT will be celebrating our 15th anniversary of providing Managed IT services to corporate companies in North America," said Richard Crooks, COO of Prototype:IT. "This move to our new corporate office will not only provide a new home to our employees but will also allow us to meet our growth needs while continuing to provide exceptional service to our customers."