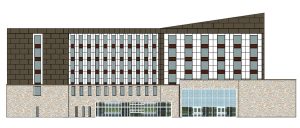 The Lakeside Crossing Hotel Indigo submitted its building plans to the town of Flower Mound on Sept.13 and they are currently under review by town staff.
The 12-acre Lakeside Crossing mixed-use development is located just south of Lakeside DFW– between FM 2499 and Northwood Drive. The heart of the development is Hotel Indigo.
The 82,825-square-feet, six-story, full-service hotel will feature 140 rooms and suites.
Of the more than 80 hotels Flower Mound native Scott Tarwater has built from the ground up, the Hotel Indigo is the one of which he's most proud; because it's located on his family's ancestral homestead.
The hotel's first floor will offer guests a communal area/gaming/work area, coffee bar, fitness center, approximately 2,000square-feet restaurant/bar, 4,386-square-feet of convention/conference space, plus a 1,200-square-feet of convention pre-function space.
Up top, the sixth floor will contain a 4,000-square-feet restaurant/bar, with approximately 2,500-square-feet rooftop patio/lounge and separate private dining area.
"One of the most exciting things about this hotel, is that– with the sixth-floor patio, restaurant/bar and private dining room– people will be able to see some spectacular sunsets over Lake Grapevine," said Tarwater.
The construction completion deadline is June 2021, with the remaining buildings required to be completed no later than June 2022.