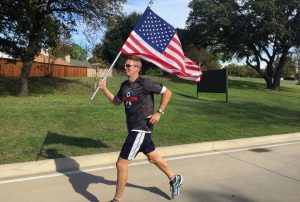 The town of Flower Mound is seeking participants for its sixth annual Veterans Day Relay Run next month.
Participants will carry the American flag and run a one-to-two-mile portion of a pre-determined 45-mile route around Flower Mound from 9 a.m. to 2:30 p.m. on Nov. 8, according to a news release from the town of Flower Mound. The course will start and end at the Flower Mound Community Activity Center, 1200 Gerault Road, and will be followed by a post-event Veterans Day celebration at the CAC.
Relay runners must be registered by 5 p.m. on October 18 by completing an online form. All runners will receive a commemorative T-shirt, and priority will be given to veterans, those currently serving in the military and Flower Mound residents.