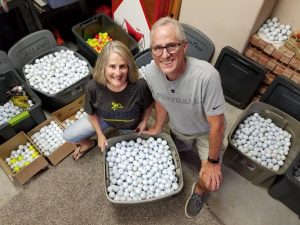 At 6 a.m. every morning for the past three years, Barney Parks has walked alongside holes 4-9 at the Lantana Golf Club often joined by neighbor Greg Laub.
Their initial goal was to get five- to six-miles worth of exercise, while enjoying the peaceful nature that time of day offered. While strolling along the cart paths, they soon noticed a bunch of golf balls left behind when errant players couldn't find them. Rather than let them sit, they quickly gathered a bucketful, then– since the two men weren't golfers– they wondered what to do with them.
"At first we were giving them away to friends," said Parks, a Lantana resident since 2008. "Our wives just wanted them out of our houses."
"But, then we said 'maybe we can make a charity of this,'" added his wife, Jan.
So, the families decided to sell the balls to raise money earmarked for a worthy cause. When Jan learned through Facebook in 2016 that a young Lantana girl named Lilly Camp suffered from the same disease (Retinoblastoma) as their grandson Logan, in their home state of California, they knew they found the best place to use the funds.
Personally understanding the enormous costs of such treatments, they decided to use Lantana social media outlets to market the balls, then turn the sales over to the family. When they found out about two other sick Lantana children, plus the child of their daughter April's friend in California in 2018, they expanded their reach.
They have since turned their idea into $14,000 in cash including $2,500 in July alone. They've also received golf ball donations from non-playing residents along the course, plus separate monetary and airline-mile contributions– from as far away as North Carolina and California– to help make a small dent in those families' enormous medical expenses.
"It's all about the children [and] helping them with their catastrophic medical bills," Jan said. "It doesn't put a dent in them, but maybe they can take a vacation or do something for themselves."
That was the case for Lilly, who is fighting her disease for the fourth time. She already has lost one eye and is hoping the world-renowned Wills Eye Institute in Philadelphia can save her other one.
"What's sad is that sometimes the doctors say 'just let them go' but they don't give up," Barney said. "That makes you say 'wow.'"
Others the initiative has helped are: Lantana's Ashley Schwarze, who developed a mutation of the KIF1A gene; Brooklynn Grupp, who's had multiple surgeries for a congenital heart defect plus a corneal transplant; and, Californian Ford Velasquez who nearly drowned.
Ashley had to visit multiple doctors, including: a neurologist; ophthalmologist; immunologist; and, gastroenterologist, to help her battle her disease.
Brooklyn required 24-hour nurse care and an ambulance to transport her to doctor's appointments, while Ford underwent hyperbaric chamber treatment in Louisiana after being weaned off a ventilator.
After Parks and Laub obtain the balls, they place them in plastic tubs in Parks' garage, each labeled by brand names familiar to golfers like Top Flight, Titlist, Taylor Made, Wilson, Pinnacle, Calloway, Srixon, and Nike.
While the balls have been put into play, they are in good to excellent condition. Most are white, but some come in colors including pink, red, and green. They are sold by the dozen and can be shipped for an extra fee.
Jan puts out all the information, including types of balls available, pricing, and shipping options on Lantana-related Facebook groups. They also previously sold what they found at area garage sales.
"It just snowballed," Jan said. "None of this would be possible without the generosity and kindness of everyone from our community and beyond."
The Parks' moved to North Texas from Southern California in 2008, after retiring from AT&T – he as a service technician and she in account management support. They have two children and five grandchildren– daughter April and four grandchildren in California, while son, Barney Jr., with one grandchild live in Grapevine.
Laub, who modestly declined to be interviewed for this story, has lived next door to the Parks' for 11 years with his wife, Brenda, plus children, Claire and Jack.
"Our vision to give back to the community is shared through this experience." Parks said. "Greg has a beautiful family with children that have attended our local schools. He is a kind-hearted soul."
To purchase golf balls, call Parks at 714-488-2739.