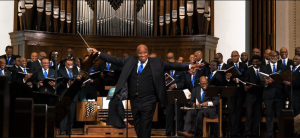 By Clairissa Cooper
Singers and musicians from diverse faith backgrounds will present the 13th annual Rejoice concert on Sunday, September 22nd at Trietsch Memorial United Methodist Church. Community choruses from 10 area churches, including featured artist John Mark Tatum and the One Accord Men's Chorus come together for the one-night, free event to benefit Lewisville-based Christian Community Action (CCA).
"This is a high-end, quality performance that audiences would typically pay for," said Dr. Joni Jensen, choir director for the Church of Jesus Christ of Latter-day Saints. "These musicians are donating their time and talents to bring our community together and provide a unique experience that supports CCA – an organization that does so much in our area," said Jensen, a Professor of Voice and Director of Choral Activities at Texas Women's University.
The first half of the concert will feature eight different pieces performed by the mass choir of nearly 200 musicians, including featured soloists and the rhythm section of the Westside Baptist Church from Lewisville. The second half of the concert features John Tatum and the One Accord Men's Chorus. 
"The music is feel-good and eclectic. There is everything from traditional contemporary to gospel. It is fun to come together and sing a style of music maybe one wouldn't normally experience in our Sunday morning services, said Karen Chraska, associate pastor of music and worship at Trietsch and coordinator for the Rejoice concert. 
"This concert transcends race, beliefs, and Christian denominations. It is the highlight of our year. Our community doesn't always have the opportunity to have interfaith experiences. We have every flavor of Christian beliefs –  Lutherans, Protestant, Baptist, Episcopalian, Catholic, the Church of Jesus Christ, and more. When Christian believers come together to make great music, it makes you proud to be part of a community where we can honor God and do something that benefits a joint cause like the CCA," said Chraska. 
The Rejoice concert began as an alliance of church musicians in the Lewisville and Flower Mound areas who would meet together for lunch. That morphed into a desire to pool their resources and launch a community-wide benefit concert. 
The annual Rejoice concert, first organized in 2007, has raised $90,000 for CCA. For 46 years, CCA has been healing, feeding, and educating families in need throughout Denton, Tarrant and Wise counties. What started as a Bible study group of seven people in 1973 has grown into an organization of over 150 staff members and more than 2,500 volunteers.
The Rejoice concert will be held at Trietsch Memorial United Methodist Church, 6101 Morriss Rd,Flower Mound, on Sunday, September 22, at 7 p.m. 
There is no cost for the event, but a free-will offering will be taken to support CCA's work in the community.