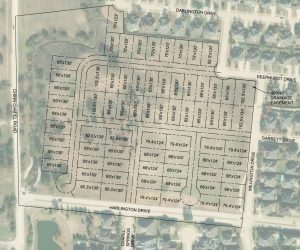 The Highland Village City Council approved this week two residential developments, one that will have 72 homes and another that will have 11 homes.
The first development will be located at 2601 Harlington Drive, which consists of soccer fields owned by Lewisville ISD and is leased by the city until Feb. 23, 2020. David Weekley Homes has been under contract to purchase the land, pending approval from City Council for a proposed ordinance/development. Council gave approval this week, and David Weekley will move forward with a plan to build a 72-home subdivision. Construction is expected to begin in fall 2020, and home prices will start from the high $400s.
Council also approved a change to the current zoning of the property at 1400 Highland Village Road from SF-15 Single Family Residential to a Planned Development for Single Family Residential. A concept plan for the 2.7-acre property includes 11 homes, which will be managed by a homeowners association.