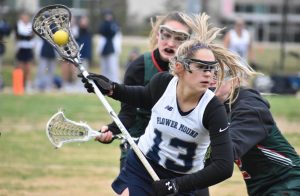 One of the fastest growing– and continually successful athletics programs– in the town of Flower Mound is not affiliated with any school.
The Flower Mound Lacrosse Association (FMLA) is in its 10th year of existence and, in recent years, has produced some of the top teams in the region and state in multiple age groups; on both the boys and girls sides.
All three of the girl's teams made it to the semifinals of the Youth Girls Lacrosse Tournament in 2018-19. Program Director and Varsity Head Coach Gabby Sinmaz said they, "look forward to returning to the championships next spring."
"Girls lacrosse growth in the state of Texas has skyrocketed in the last five years," Sinmaz said. "The North Dallas Lacrosse community has grown the fastest and FMLA has felt that impact. We have numerous players who started the sport through our program and now play for elite club lacrosse teams, with aspirations to play at the collegiate level.
"Our middle school programs (7/8 & 5/6) have made it to the championship round the past four years, for the end-of-the-year North Texas girl's youth tournament Our high school team made it to the Division One State Championship playoffs for the first time in program history (in 2019)."
Taylor Ambrosio was named to the All-State Team, while Lauren Tousignant, Mackenzie Smith, and Kenzie McCormick were all named to the TGHSLL D1 All-District Team.
The high school team also had six players, Tousignant, Anna Day, Ambrosio, Kenzie McCormick, Brynn Belmont, and Hailey Zutec selected to represent North Texas at U.S. Lacrosse's National Tournament this summer.
Sinmaz said she fell in love with the sport of lacrosse as a seventh grader in Dublin, Ohio. She said her early experience with lacrosse gives her a kinship of sorts with players from North Texas.
"I can relate a lot with Texas lacrosse, because I, too, grew up in an undeveloped lacrosse region and had to train 10 times harder to show I had the same skill level and field awareness comparatively to a player from the East Coast," Sinmaz said.
Becoming a two-time high school All-American, Sinmaz went on to play DI lacrosse at the University of Cincinnati. She said her major objective now is to the see the sport in Texas get bigger and bigger.
"We'd like to see participation continue to grow, as well as see both our boys' and girls' high school  teams become more competitive across the state," Sinmaz said. "We would love to see both programs compete for a state championship in the next couple of years. We want the town of Flower Mound to be known as a lacrosse powerhouse and for players and families to feel proud to be part of our organization."
Youth Director and team 7/8 Head Coach Elia Stanfield said the FMLA saw a growth of 15 players between two of the girl's youth programs this past season. She said she is seeing the tide gradually turning, with some parents already being familiar with lacrosse when they initially approach the organization.
"I think we definitely get a mixture at the youth level, with the majority [of parents] still being a curiosity," Stanfield said. "The sport continues to grow in Texas and the girls program at FMLA hopes to reach more communities and schools this year.  There is still a curiosity about the sport, since it is not school-sponsored at the public school level."
For her part, Stanfield started playing lacrosse in upstate New York at the age of 14, and said she, too, can relate to the growing pains that lacrosse has experienced in Texas.
"Lacrosse was not yet school-sponsored at the middle school level when I started, so my first introduction was in ninth grade," Stanfield said. "It was incredibly hard to learn. We had wooden sticks with virtually no pocket, and the rules were different compared to today's stick and game.  I stuck with it because most of my soccer friends played, and I started to like it after I learned how to throw and catch with proficiency."
Stanfield earned a scholarship to play at Syracuse University and continued to coach the sport at the NCAA, high school and youth-levels ever since.
The FMLA has had four players to go on to play college lacrosse.
Camps are free of charge and offered for girls and boys who are entering first through 12th grades who have never played lacrosse and are interested in giving it a try.
"The clinics gives all potential new players a chance to get familiar with the sport and receive super fun, on-hand training with lacrosse equipment. We are looking for athletic players, who have a strong work ethic, and understand what it takes to work in a team," Sinmaz said.
For more information and to register for fall lacrosse, click here.