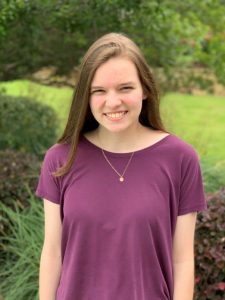 Kelly Becker is on top of things in most aspects of her young life.
The Liberty Christian School senior is the poster student for "involved;" playing flute in the band, acting as an Impact mentor and serving as a member of the National Honor Society, Pre-med Club and Spanish Club, just to name a few.
But, Becker, 17, said that as a younger student, she has already experienced depression for a reason that might surprise people.
"I was lost," Becker said. "The lies of social media truly did burden my heart every single day. I wanted to be like 'them,' be liked like 'them'. In the most connected world humankind has ever seen, I felt the most alone. My anxiety caused me to avoid interactions with others and retreat into myself. Every day was a struggle not to let my fear overwhelm me; and, without a hope to build up my strength, depression followed."
Becker also serves in the youth group and volunteers at The Village Church and said that it was her faith that got her through her darkest period.
"My freshman and sophomore years of high school were the worst of my life," Becker said. "But, then the Lord redeemed my life. I gained hope and a new perspective on the world. I learned the beauty of human interaction, serving others, and taking advantage of the opportunities available to me now.
"While looking toward my senior year, I have found myself looking back on my 12 years at LCS and how I have grown, where I failed, where I succeeded, where I cried, and where I laughed. The darkness that I walked through for years and the light that I experienced after that both shaped me into the young woman I am today."
That young woman is currently ranked first in her incoming senior class and carries a 4.43 grade point average at Liberty Christian School.
Becker also co-founded the Business and Entrepreneurship Club and participated in a mission trip to Panama earlier this year. She said she cherishes every activity of which she has been a part.
"They allow me to connect with others and serve my community, teachers, and fellow students," Becker said. "High school is an incredibly challenging time, but it is also a time where students may have the best opportunities and availability to serve those around them directly; primarily through the school itself.
"After watching how my brother's life changed in college and how he still finds time to help others, I pledged to take advantage of all opportunities for service, enjoyment, and leadership I have in high school."
The Flower Mound teen is not sure where she plans to attend college or what her major will be, but is interested in pursuing a career in biology or computer science.
Becker's Favorites
Favorite Subject: Science
Inspiration: My Mother
Favorite Food: Mac & Cheese
Favorite Movie: I don't have one
Favorite TV Show: Criminal Minds
Currently Reading: Pathways by Tony Evans
Favorite Musician: John Mayer