Another school year is on the horizon and with it, the traditional Texas fall ritual of Friday Night Lights.
At high schools throughout the region, a special team focused on the health and well-being of the student-athletes is about to move into high gear.
These highly-skilled athletic trainers have actually spent the summer getting ready for the year ahead. But, as you'll find in talking to them, theirs is a year-round occupation.
They are part of an integrated group of professionals whose job is based on two main principles– avoiding athlete injuries and treating any sustained injury.
As The Cross Timbers Gazette discovered, what they do goes far beyond the basic duties of bringing water bottles to thirsty players, taping ankles before games and applying ice after them.
"Our main goal is the prevention and rehabilitation of the sports injury," said Cody Jenschke, who is in his 14th year as head athletic trainer at Flower Mound High School. "Our ultimate goal is– we're not going to put someone out on the field who is injured.
"Winning is great. It makes our job more fun, because the training room [mood] is lighter when you are winning. A win for us is that nobody got hurt. Ultimately, child safety is our No. 1 goal at Flower Mound High School."
At Marcus High School, the goal for student athlete care is the same.
"Our main thing is injury prevention through hydration and nutrition and conditioning; and, the coaches take on more of the strength and conditioning role," said Beth Brunette, who starts her fourth year as head trainer at Marcus. "Most of our job is reacting to the injuries we do have. We try to do as much prevention as we can, but a lot of it is taken out of our hands. Most of our daily work is dealing with the injuries that did happen – treatment and rehab."
So who are these people, what is their background and what do they specifically do? Here's a look:
Training the Trainers
As athletes have become faster and stronger, athletic trainers have become more educated and certified.
Previously, the profession required only a Bachelor's degree in Athletic Training, now it is moving toward an entry-level Master's program to match with physical therapists. Plus, practitioners are required to take 50-hours of continuing education units every two-years to maintain their national certification and state license.
Certification and licensing are dictated by the National Athletic Trainers Association, Board of Certification, Inc. and state regulatory agencies, rather than schools or the Texas University Interscholastic League (UIL). Athletic trainers must go through an extensive amount of learning to earn their certifications and licenses and be hired by schools.
"They do a lot of rehab work," said Lewisville Independent School District Athletic Director Tim Ford. "They do a pretty good job of looking at things, but will always defer to doctors. The vast majority of injuries that we have are not life-threatening or severe. You're talking about tears or pulls. You'll see a broken bone once in a while."
LISD also tackles the concussion issue through a Concussion Oversight Committee that meets annually to discuss protocols, new tests and procedures.
The Training Team
At most public– and some private– high schools, the head trainer has one or two full-time assistants supplemented by a group of student trainers. They also work with local physicians, plus strength-and-conditioning experts and sport coaches to develop a game-plan for each athlete.
At Marcus, Brunette has two assistants – Cade Ogilvie and Diana Lichtenstein – and 7-20 student trainers.
Argyle is led by Aaron Fowler with assistance from Caitlyn Theaker and Edward Vega.
At Flower Mound, Jenschke is aided by Paul Dunham and newcomer Nikki Teutsch, a former student trainer.
Guyer Head Trainer Janna Roper has Rachel Hayes in charge of strength-and-wellness.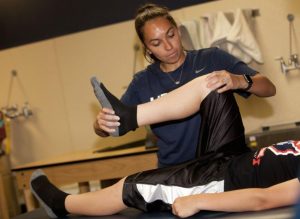 Even private schools, like Argyle's Liberty Christian School, have their own training staff, with Head Trainer Katie Christensen assisted by Nikki Jackson and strength-and-conditioning coach David Neill.
At Flower Mound's Coram Deo High School, veteran David (Doc) Ortmeyer is ready to start his third year after previous stints at Marcus, Colleyville Heritage and Lewisville. He is the first licensed trainer the small private school has hired. In fact, he is a contractor through Texas Health Resources. He is the only trainer at the small private school and only works during the school year.
In addition, each school also has a primary physician who serves as volunteer team doctor for football.
Many are based at Flower Mound's Orthopedic Associates, including: Dr. Michael Willenborg at Marcus; Dr. James Heerwagen at Flower Mound; Dr. Jeffrey Cantrell at Argyle; and, Dr. Aaron Schrayer at Liberty Christian.
Other team physicians include: Dr. B.J. Linden at Highland Village Family Medicine; Dr. John Gomez (concussion) from Rapid Med; and, the staff at Wise Health Systems also contribute.
Doctors are on the sideline at every home football game and also conduct the annual athlete physicals. They also hold open time-slots during the weekdays for in-office visits.
"The key is, the sooner we can get them [athletes] in and get them checked out, the sooner we can get them back on the field," Jenschke said.
While the head trainer typically doesn't teach, the assistants often lead Sports Medicine and/or Athletic Training classes to train students. The goal is to have at least one certified/licensed athletic trainer on site at every home sporting event and road football games. For non-football away-contests, the trainers often contact the host school to find out who will be available onsite.
"The biggest challenge you face at any high school is the logistics of getting kids time with a coach and time in the facility," said Liberty's Neil. "Compared to most, we have a large facility with fewer kids. At a 6A school you might have 500-600 athletes, just on the boys' side. We have 500 athletes from sixth grade through 12th. The challenge many schools face is too many kids and not enough facilities and not enough coaches.
"Strength-and-conditioning is not complicated. In fact, the more complicated you make it, the more difficult it becomes. Kids need the basics and do the basics well. By having the facilities we have and the number of athletes I get more one-on-one time with each kid to make sure we're watching technique and doing the things we need to do."
Coram Deo's Ortmeyer agrees.
"This is something the coaches really like, because it takes some of the pressure off them," he said. "And the parents like having a qualified person there to help explain when their kids get hurt and which route they feel comfortable with."
Unlike the big schools, Coram Deo does not a specific team doctor and is not equipped to handle rehabilitations at the school, so it relies heavily on athletes' parents to determine the course of action.
"We have a lot of communication with parents," he added. "We have a lot of communication with coaches. We spend a lot of time talking to parents and their kids about their current injury. Is it something we can get you through to play in the Friday night football game, or is this something that's going to require you to sit? It's all about risk vs. reward."
Game Day
Although all sports are served by athletic trainers, football takes up the largest amount of training resources, because it has by far the most injuries. With the exception of soccer, injuries in most other sports are due to overuse.
When a player is hurt initially, trainers serve as the first responders to assess the situation and determine if emergency services, like an ambulance, are required. If the athlete can be moved safely from the field, they go to the special tents where the initial evaluations can take place in private.
"If I see it's a sprained ankle I can take care of it really quick," said Fowler, who has seen everything from hip dislocations to fractured femurs to C-spine and compound fractures. "If it looks like a fracture or dislocation or [something] more significant, I will have the doctor take a look at it.
"From that point, it depends. If he can go back in, we might put on a brace or whatever. If he can't, I relay to the assistant coach [who's] in charge of relaying it to the head coach to let the coach know he can't go back in."
If the athlete doesn't return to the game, the parents are contacted and told if their student must go home on crutches or a splint or be carefully watched after a head injury. The trainers and doctors will let the parents know their recommendation with the parents making the ultimate decision, usually based on their insurance and their athlete's past history.
Rehab and Therapy
The trainers usually will re-evaluate students the day after the event to see what's better or worse, then set-up a rehabilitation and treatment program to return the athlete back to play; starting with creating a digital folder, much like at a doctor's office.
 Athletes needing rehab can stop by the training room before school, during their athletic period or after school when they can do therapeutic exercises to strengthen the injured area. Everything is on a case-by-case basis, with no two athletes treated the same way, even with the same injury.
Whereas schools previously tracked injuries on paper, for the last decade or so they have utilized computerized programs which allow trainers and coaches to monitor their athletes through extensive data.
Each day the training staff enters information about the athlete's injuries and treatments and restrictions for those injuries. Among the digital features prepared by the athletic trainers are reports that can be sent to coaches to determine next steps. They also produce reports that can help the training staff uncover injury trends and how to avoid them in the future.
Improvements in medical science and treatment options have dramatically changed how the training staff treats injuries.
For example, the old rule for concussions was, if the athlete didn't have a headache after five days, he was ready to go back in. Today there's a much more elaborate protocol.
In the past, torn knee ligaments often required extensive surgery and a full-length leg cast, now arthroscopic surgery minimizes time away from their sport.
Prevention
Keeping athletes from injuring themselves in the first place often lies on the shoulders of the school's strength-and-conditioning coach, who focuses on preventative measures.
Even when an athlete's hurt or injured, that coach comes into play to help the athlete get stronger faster and return to normal action.
"We definitely have our own specialty, but we work together," said Liberty Christian's Christensen.
Annually, Jenschke looks at what can be changed in the off-season program to prevent shoulder and lower-body injuries.
Since athletic trainers may not interact with athletes during the summer, they often will prepare a written exercise program for the athletes to follow. Many athletes attend the Performance Course strength-and-conditioning camp that the trainers monitor.
"If you don't do anything in the summer– just laying around, go the beach, eating whatever you want– Aug. 1 (the start of football training camp) is going to come and not be so fun," Christensen said. "We try to educate them– and educate the coaches– about different things to [aid] maintenance of things; like for baseball players, their shoulders."
The challenge is getting the athletes to follow the recommendations, since what happens in the summer doesn't usually involve ball skills. But, that's where the parents can become big advocates of having their students perform what the trainers suggest.
"I think the parents, even at the public schools, will communicate with their kids the importance of staying with the summer program," Ortmeyer said. "Yes, they're still kids– and kids will be– kids, but I've been happy overall at all the places I've been. If you give the parents a little bit of ownership of that and that control, that to me is important. If you want to recover that, you do this and the parents really support it."
Sticking to the summer regimen is just one part of the prevention process. Understanding why injuries occur in the first place is another.
Trainers spend some of their time looking at athletes and trends, like multiple pulled muscles. They will then talk to the strength-and-conditioning coach to alter weightlifting, or the coach to learn if a new drill has been added.
"The key is to identify something before it gets to the point where it affects everybody," said Argyle High's Fowler. "We might change weight-room protocols. We might change the strength-and-conditioning. That's the biggest thing, is identifying where the problem is."
Fowler and his peers work with coaches and strength-and-conditioning/sports conditioning coaches to develop exercises to help strengthen muscles and joints. Coach Neill breaks down prevention into three areas.
"No. 1 is strength," he said. "A strong body protects itself better on contact, on movement and on change of direction than a weak body. It's a simple matter of physics. No. 2 is stability. How well can you control your body on one leg and through core strength and movement? No. 3 is mobility and flexibility. It's what range-of-motion can you use your body."
Select and Club Sports
Coaches, like Neill, try to focus on sport-specific exercises for different areas of the body, for different sports. A problem, however, is a growing number of athletes– especially at the large schools– are focused on only one sport. 
This challenge has been escalated by the proliferation of club and select teams. Athletes, who previously had a break from their sport, now spend the entire year at it. Plus, those groups don't follow the same standards as in public and private schools sometimes not requiring physicals to play.
Ironically, because of its expense, football is the only sport without such outside school activity.
"Before, you had a lot of kids who worked in the summer," said LISD's Ford. "And, the problem now is, if you only play one sport, you are using the same muscle group over and over and over and creating any differences in the wear patterns, if you will. I think it's creating some burnout in muscles."
Injuries that happen away from school often continue to be treated by the school athletic trainers.
"For me, I think it's a problem," Ford said. "We're driving kids away. You see smaller schools where kids play two or three sports and are really involved in a lot of different aspects. The 6A schools are like a small college, where you're playing one [sport] pretty much and that's well and good, unless something happens, [then] you've got nothing. Kids need to have some choices."
One of the problems with that is, except for football, many colleges scout the select teams for their next group of athletes, which forces younger athletes to keep playing year-round. Some select coaches have even told their athletes not to play for their high school. It's a matter of what's right for the body and what's right to make it at the next level.
"And, that's not fair to the kids." Neill said. "It's a broken system and a vicious cycle."
"It's hard to maintain that healthy balance for those kids," Jenschke said.
Kids who play one sport have burnout issues, both mentally and physically. Playing the same sport 12-months-a-year is not good for kids.
"You are seeing more overuse injuries now," Neill said. "Look at the increased number of Tommy John injuries now in baseball. What's going on is these kids play fall baseball and spring baseball and the throwing motion is getting overused and the body is not able to recover. It adds up over time and the body is never able to recover."
"It's hard to keep them healthy because of how much they play," Jenschke said. "There's been a lot of articles written lately about how the specialization of sport has been causing so many injuries early.
"I don't like it when they get hurt away from us, but they're still our kids and I'm going to treat them."