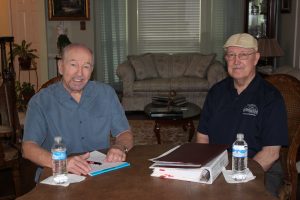 During a Town Council workshop session on Thursday, August 15, some Council members took issue with the town manager and some staff members over items in the upcoming budget. The session became unusually tense as the queries from Councilman Jim Pierson seemed to be challenging the judgment and experience of those town staff members involved in creating the budget. The Council members attending the workshop were Mayor Pro Tem Sandeep Sharma and Council Members Jim Pierson, Jim Engel and Ben Bumgarner.
The following Monday, August 19, at the regular Council meeting, the tension continued as some residents took to the microphone during the citizen's participation session. Councilmen Pierson and Mayor Pro Tem Sharma were the subject of criticism because some felt they didn't show enough respect for the work performed by the town staff or some other town employees.
Councilman Pierson asked for an interview to set the record straight. In the interview he talks about his reasons for asking probing questions regarding the budget items and the increases from one year to the next. In addition, he talks about the role of elected members of the Council to ask pertinent questions that impact all residents of Flower Mound.