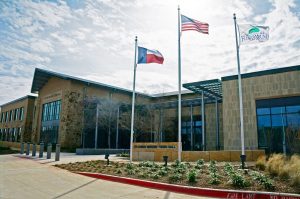 Most municipal budget meetings induce yawns and head-nodding; reactions similar to watching paint dry. Leave it to Flower Mound's Town Council meeting on Monday not to follow a normal path.
The council's budget workshop– held on Thursday, Aug. 15– was the genesis of public comments during Monday's meeting on council member's lack of respect and verbal attacks on the professional town staff, misunderstanding of municipal finances and conduct revealing preset personal political agendas– to the detriment of current and future community needs and service requirements.
Attending that workshop were Mayor Pro Tem Sandeep Sharma and Council Members Ben Bumgarner, Jim Engel and Jim Pierson; the same four council members who voted to bring the crossing guard program back under the FMPD– even though the FMPD is down 10 officers–  ignoring Police Chief Andy Kancel's recommendation against that action. Not present were Mayor Steve Dixon or Deputy Mayor Pro Tem Claudio Forest.
To correct misinformation from the workshop, Flower Mound Town Manager Jimmy Stathatos was prompted to write: "Just to clarify … our overall tax rate is around three-percent above the effective tax rate. However, it's higher when you look at the M&O [Editor: Maintenance and Operations– which is the fund to pay for operating the local government; police, fire and parks departments, among others] effective tax rate. The reason is, Flower Mound has been paying off tax-supported debt at a quick pace (regardless of what you've heard … that's a fact). Therefore, our debt-service-rate decreases and our M&O rate increased. Flower Mound has LESS tax-supported debt than we did 10-years ago."
Monday night, Joe Roach was a public speaker. The longtime resident and owner of the Roach acreage near the Lakeside DFW and Lakeside Village developments said he felt the need to comment on the council's conduct as he watched the Aug. 15 workshop.
"I'm here to talk about a positive attitude and civic support," said Roach. "The tone of the meetings and reflecting a less-than-supportive process– and this negativity is running from the council toward our staff. I sense a lack of respect in the tone of– and the focus of– pointed questions to individual members of the staff … if I feel this negativity, what must the staff member feel and how will this affect morale?  I also see this tone expressed on social media from a small number of residents in a very personal way … I have great respect for the result of our Town Manager Jimmy Stathatos and the leadership team he has brought on board: Police Chief Kancel, Fire Chief Greaser, Finance Director Debra Wallace and Development Director Andrea Roy."
He then related the story of when his family home burned to the ground 29-years ago– due to lack of town infrastructure (no fire hydrants) and old fire equipment for a volunteer fire department– in comparison to the professional firefighters and up-to-date equipment that helped keep retired Navy Seal and local business owner Dan Licardo alive for more than an hour following a violent traffic accident on Sept. 4, 2018. The FMFD efforts performed prior to his air transportation to Parkland Hospital made his survival possible. In addition, Chief Greaser personally drove Licardo family members to Parkland, where he stayed on vigil to support them.
"I encourage the volunteer council members to have great respect for the professional staff members who work for our town," said Roach. "They are experts in their fields and will professionally work with the Mayor and council to achieve your goals. Budgeting is strenuous and it's critical, but it need not be demeaning."
As for the actual budget statistics presented by Wallace: the $0.082492 equals the lowest tax rate paying for debt since the town started issuing debt; and, each town employee serves 120 residents (more residents than the average of 112 for other benchmark communities– some of which outsource services, which Flower Mound provides in-house).
The 2019 debt service requirement for the General Debt Service is $9,034,723, with Proposed Tax Rates for: Maintenance and Operation of $0.356508/$100 valuation; Debt Service of $0.082492/$100 valuation; and a total proposed tax rate of $0.0439000/$100 valuation. The Effective Tax Rate is $0.427188/$100 valuation and the Rollback Tax Rate is $0.440159/$100 valuation.
Wallace explained that the rise in drainage requests [CIP or capital improvement plan items] are the result of the town's aging infrastructure.
She added that the $60,000 the town paid for a Cultural Arts feasibility study will be reimbursed by a $5M grant, which added to the town staff's proposed financial cuts leading to a total reduction of $622,773.
The cuts were in response to the council's request from the workshop for staff to find items that could be delayed for future budget years– in other words, kick those cans down the road. Of course, the reality is that future prices for those delayed items will have gone up, which means a greater cost to the town's residents.
Still, council members, especially Sharma, questioned the need to fund specific line-items. That prompted Wallace to direct him to look at the budget documents already providing answers to his questions.
Mayor Steve Dixon also pointed out that when he'd served on council previously, he'd put together his list of questions for each agenda item and the Town Manager would pass it on to the departments to get responses prior to a meeting to help limit meeting time.
Former Council Member Kevin Bryant also spoke about the current council member conduct.
"While watching the budget workshop my first takeaway is that I really wish more of you had taken the time to meet with and work with staff prior to these budget meetings," he said. "Our town's finance department is very skilled and very highly regarded. They have received many awards and recognitions for their work.  This is shown, in part, by our budgets passing independent audits and for the past five years the town has been awarded AAA-ratings by S&P and Fitch, saving the town real money. I am sure they would have happily met with you to explain, in detail, the entire budget process and how the budget is prepared.
"Listening to the way you publicly mistreat and second-guess our great staff, it is clear that you neither value, nor respect, their expertise.
"During that session, members of council were talking about cutting town services, reducing overtime and town employee benefits. Considering the small amount that would actually save the residents, it would have a dramatic negative impact to our individual employees, and our quality of life.  It is not productive to discuss cutting personnel benefits or raises when we are not in a recession nor facing otherwise difficult financial times. Those discussions directly impact morale, and not in a positive way.
"Police and Fire are trying to hire more personnel, as is most of North Texas. There is a bidding war to hire quality first responders. You think it is hard to get PD and FD now, wait until the word gets out that this council is considering cutting raises, benefits, overtime and slowing down staffing and equipping the new fire station … Longer response rates would contribute to our town ISO rating to decline.  If that happens we ALL would see our insurance rates increase.  And, increase by a lot more than the individual pennies that you are trying to save now."
Like other speakers, Bryant asked: "If you are so worried over time, why don't you do more preparation before council meetings so you won't have to ask so many questions that could have been easily and legally answered prior to the meeting? That would directly contribute to having shorter council meetings.
"Another thing, if you are so determined to slash the budget, why did you oppose and campaign against the charter amendments."
Pierson said he felt Bryant was looking at him specifically and asked to respond, but Dixon declined that request.
Longtime resident Paul Stone said: "We operate on a five-year CIP and a three-year budget– Performance Improvement Plan (PIP)– and, if council members get too involved, they could be in violation of the Town Charter. Lowering the tax rate by only ¼-percent is just political. Put your money where your mouth is– not taking their stipend."
Two speakers supported the actions of the four council members.
Cathy Strathmann, a former council candidate on the Grow Slow FloMo platform several times, said: "I think they're doing one hell of a job."
While local real estate agent Jeffrey Blasko said: "Many of us campaigned and voted for you and are now looking at you … the residents come before spending."
"I listened to Mr. Roach … and he's right," said former Council member Bryan Webb. "I just listened to what was just said [by Blasko] about voting for the recent [elected] council members [Pierson, Bumgarner and Engel] who 'owe' them."
"Liar" was yelled by someone in the audience and Dixon said he didn't agree with Webb's interpretation of what Blasko said.
Of the town's eligible voters, only 6.5 percent voted in the May election; with a mere 1,777 voters electing Pierson and 1,760 voters for Bumgarner. Sharma's term expires in May 2020.
Sharma then asked about changing town staff performance assessments to a "goals and productivity" scale, such as corporations typically rate employees. The town– as with most government employers– sets a specific raise percentage ceiling, with each employee receiving a portion (from 0 to 100-percent) of that amount, based on performance.
Wallace asked Sharma how his "goals and productivity" approach would apply to "maintenance workers– by how many repairs were made?"
Stathatos explained to Sharma that: "We don't use a merit system on performance as a reward. Instead, we don't reward the staff members who are under-producing."
Sharma continued to examine budget line-items for possible elimination– including some already council-approved and implemented. An alternative approach is to reduce personnel salaries and benefits.
Pierson's final comment was: "Set a bottom-line number and then let staff deal with it as they see fit."
On its Facebook page, the Flower Mound Professional Firefighters Association wrote: "We had 25 plus members watch the budget meeting tonight and we are very disappointed that Councilman Sharma would attack our pay, our retirement and benefits to save residents minimal dollars. We encourage everyone to write their council members and support the Flower Mound Professional FF that put their lives on the line day in and day out for the wonderful residents of Flower Mound. If he has his way this would be detrimental to the public service Flower Mound residents deserve! We will lose great FF!"
The Flower Mound Police Association posted on a few thoughts on the matter. "First, we want to thank our wonderful residents for the out pour of support for public safety. The Town has been awarded numerous accolades for safety and security over the last decade. This is not by happenstance. These awards were earned by the hard work of all the employees who serve the citizens of Flower Mound. This is fueled by the passion with which these employees serve this wonderful town and its residents. Employees with this kind of passion are not easy to come by. In years past, council and town management have recognized the need for recruiting ethical, hardworking, responsible and loyal employees. In today's market, this is not an easy task. With staffing levels already low at the Flower Mound Police Department, removing or changing our compensation plans could have a negative impact on not only staffing, but the ability to provide the level of service our residents deserve and have become accustom to. The FMPA wants to also make it clear that this is not simply a public safety concern (Police and Fire). Decisions made about employee compensation have a direct effect on over 600 employees of the town. These employees ensure the residents have running water, clean parks, functioning traffic control devices, maintained streets, economic development, and many other services. As such, these employees deserve to be recognized and compensated appropriately. The budget process is not taken lightly in any town department. Months of work go into stewarding the resident's money wisely. This includes meetings at each department to pare down the budget requests. Throughout the process, the needs and priorities are recognized and presented for funding. While not every item requested in the budget is always immediately needed, town staff is confident that the requests presented will allow employees to work more efficiently and provide the high level of services the residents deserve. This is not to say that town employees should not be held accountable. However, it is unacceptable for elected officials to publicly dismiss and disregard the expertise and effort provided by town staff. Differing opinions are expected and invited. However, they should be shared respectfully and without hostile tone. The FMPA is not looking to create conflict, but feels it is important to express our thoughts to the community we serve. It is our hope that the residents will support not only the public service employees, but all the great town employees. Make your voice heard and let the local elected officials know you appreciate the employees of The Town of Flower Mound."
The next required public hearing is set for the Tuesday, Sept. 3 council meeting.
The council will vote on the budget and tax rate on Monday, Sept. 16.