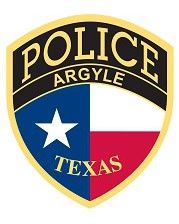 The following is a summary of incident reports made to the Argyle Police Department as compiled by the staff of The CTG:
On April 6 at 8:37 a.m., someone reported two longhorns, two calves and a donkey loose near North Gibbons Road. The owners came to fix the fence.
On April 6 at 10:27 p.m., a driver reported that children were on the I-35W bridge over Crawford Road, throwing rocks at vehicles.
On April 8 at 9 p.m., a resident reported people walking through homes in a new development with flashlights, concerned they may be stealing things. The officer found some contractors were working late on a job, getting ready to leave.
On April 8 at 9:46 p.m., a driver missed the turn for the PointBank parking lot and got stuck in the ditch next to Hwy 377.
On April 11 at 4:12 p.m., drivers reported three calves were loose on the side of the road near I-35W and FM 407.
On April 12 at 10:09 a.m., a resident reported finding a recording device in her home.
On April 18 at 2:20 p.m., a resident called police to help him shut down a large high school party before it got started that night.
On April 18 at 5:13 p.m., a woman reported seeing a young person smoking something suspicious on Mosswood Drive.
On April 19 at 9:30 p.m., a resident called police because her neighbor's dog barks so much that she is going to move.
On April 20, an officer heard loud noises that a caller thought were gunshots coming from Collins Street. A neighbor said he saw fireworks. The officer was unable to locate the source of the noise.
On April 22, a woman reported that she ran over a traffic survey cable in Argyle and it punctured her tire and scratched her vehicle.
On April 24 at 7:44 p.m., a resident reported a suspicious teen was going down Forest Trail on a hoverboard. Police found a 14-year-old boy who was going home.
On Sunday, April 28 at 4:35 p.m., a man tripped the alarm at Argyle Town Hall. He was trying to attend a public meeting about Crawford Road that had been canceled.
On April 28 at 5:57 p.m., a woman reported that her ex-husband continues to harass her and has been hacking into her security system.
On April 29 at 11:02 a.m., police were called to a disturbance at the CVS parking lot. A man told police that his boss started yelling at him and kicked him out of the vehicle at that location.
On May 1 at 2:19 p.m., a woman reported finding a pair of scissors resting in her door.
On May 3 at 10:08 a.m., a driver reported a turkey on the side of the road on Hwy 377.
On May 12 at 2:39 p.m., an 11-year-old boy called police because he was playing Xbox and someone online was asking if he was single.
On May 16 at 4:03 p.m., a woman reported that she got notification of someone in her driveway and her front door alarm just went off. It turned out to be her boyfriend in an unfamiliar vehicle.
On May 18 at 11:41 a.m., a driver reported that the traffic lights at FM 407 and FM 1830 were not functioning properly, but were stuck on red for one way and green the other, and people were starting to run the light. Police were able to change the lights to flashing red until TxDOT arrived to fix the problem.
On May 18 at 2:34 p.m., a driver called in a welfare concern for a man walking on the shoulder of I-35W in Argyle. The man told the responding officer he was walking to Wichita Falls.
On May 19 at 12:33 a.m., a resident on Meandering Creek Drive reported that people were fishing in the lake behind their house and "being loud." An officer advised the group of the midnight fishing curfew, and they left.
On May 21 at 12:53 p.m., someone reported an elderly female driver drove into a handicap sign and nearly hit the building in the shopping center at Country Club Road and Hwy 377.
On May 23 at 7:18 a.m., a resident on Country Lakes Boulevard reported that his Ford F-150 was stolen during the night.
On May 28 at 5:54 a.m., a woman reported that her convertible had been stolen. It was later determined that she had forgotten she left it at her husband's business the night before.
On June 4 at 2:40 p.m., a caller reported that a man was driving a fake police vehicle with fake emergency lights on I-35W through Argyle. The man had his window rolled down and middle finger in the air, using his lights to pass other vehicles.
On June 10 at 8:38 p.m., officers relocated a venomous copperhead snake from inside a coach's office at Argyle High School. Though the snake was "carefully relocated," it died during the process.
On June 12 at 8:49 a.m., a female citizen reported that her Snapchat account was hacked by an unknown male who is harassing her, trying to use personal photos against her to get her to send more photos.
On June 18 at 6:46 p.m., a driver reported that a tractor-trailer was driving through Argyle on I-35W, trying to run other vehicles off the road.
On June 18 at 9:45 p.m., a red sedan was seen suspiciously driving around neighborhoods and checking out vehicles.
On June 19 at 8:52 a.m., Cross Timbers Community Church reported that someone dumped lots of empty boxes in and around their dumpster overnight. The officer wrote later that the responsible party is going to do community service for the church "to help make up for the mess they made."
On June 26 at 12:50 p.m., a resident reported that someone stole her date book from inside her home.
On June 27 at 4:28 p.m., a resident reported that two young men on scooters drumming up business for their lawn care service tried to force their way into his garage.
On July 1 at 10:55 p.m., a resident asked police to tell another resident that "their teenagers are driving 100 mph in a neighborhood."
On July 3 at 8:40 a.m., a resident on Skyline Drive reported three young males just urinated in their yard. After the officer arrived, the three subjects apologized, and the officer and resident spoke with the males and their coach about being respectful.
On July 3 at 10:24 a.m., an officer noticed an elderly woman had been sitting in her car for two hours in front of Argyle Town Hall. The woman told the officer she was filling out applications online and lost track of time.
On July 4 at 4:19 a.m., a teenage girl was having a sleepover and reported she thought she saw a shadow come by the window. She called back soon to report seeing bright lights, and was informed it was the officer on scene.
On July 6 at 12:07 a.m., a driver called police because the light on FM 407 at Hwy 377 was not turning green, so they ran the red light.
On July 20 at 6:40 p.m., someone reported a vehicle was parked along Skyline Drive and there was "a lot of screaming coming from it," and the caller couldn't tell how many people were in the vehicle. The responding officer found that the driver, who was alone, had just pulled over to use the phone and was talking to his sister with the windows down.