Lantana mothers met for a friendly flag football tournament Sunday to raise money for their kids' football association.
The Lantana Wildcats Youth Football Association kicked off its new season with a Powder Puff Championship event, pitting the mothers of its players against each other in a fundraising event. Ryan Garcia, president of the association, said Jessica Marr had brought him the idea over a year ago, but he wasn't sure if it would be something they could pull off. This year, the organization wanted to put on a fundraising event to cover rising expenses, and Marr "took this Powder Puff championship by the reigns."
LWYFA has a team of Kindergartners and first graders together, and then one for each grade second through sixth. Each of those teams fielded teams of about 12-15 moms for the 7-on-7 Powder Puff Championship.
"The moms got more engaged than I would've believed," Garcia said. "They started practicing a month-and-a-half ago in 105 degree heat, running plays and learning defenses … It was planned to be a fundraiser but became more of a bonding experience for moms and their sons."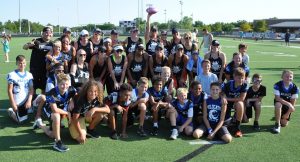 The event was held Sunday from 2-6 p.m. in front of a crowd of about 1,000 people, Garcia said. The kids escorted their moms onto the field, and there was a healthy amount of friendly banter between the competitors. The tournament's championship game pitted the K-1 moms versus the sixth grade moms, and the sixth grade team won. They were named the Queens of Powder Puff and awarded the pink bedazzled football trophy.
"It was one of the best events we've done," Garcia said.
The event raised nearly $10,000, far surpassing the initial goal of $5,000. The event next year may be held later in the year or at night, to avoid the midday August heat the tournament was played in this year.
Garcia said the association wants to encourage the other organizations it plays against, like Southlake and Coppell, to do their own Powder Puff tournaments next year and then there could be a Champion of North Texas tournament between all the association winners.