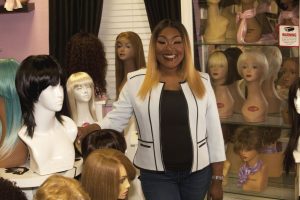 Yes, waking up with "bed-head" hair or wearing a "bad hair day" hat isn't fun, but a good shampooing will usually correct the situation.
A person's hair can represent a personality– like Dwayne "The Rock" Johnson's bald skull or Shirley Temple's 32 famous curls– and is a crucial part of an individual's self-esteem.
Experiencing hair loss due to medical reasons including– but not limited to– alopecia, radiation therapy, chemotherapy, trichotillomania, burns and more, is an added trauma.
Tresses of Care, s 501(c)3 nonprofit, with its motto, "The Hair and Now Solution," helps children obtain wigs at no cost. It was formed in November 2017 by Ty Sanford, owner and founder in 2012 of Legacy Lace Wigs, LLC in Flower Mound.
Sanford pointed out that children don't have a choice; and, they don't have the finances to afford cranial prosthesis– custom-made wigs. Usually medical bills eliminate any spare funds. The selection of recipients is based on financial inability to afford the hair product and services.
"They're already going through so much," said Sanford, a mother of four. "Our goal is to have our glam squad visit children and adolescents in hospitals, such as Texas Oncology."
​Sanford, a Marcus High School graduate, wants children to focus on keeping up the fight and living their best life. Because image can be crucial within the healing process, providing "beautiful illusions" to children can help them feel better psychologically.
"We want children focusing on fighting cancer and alopecia and not worrying about their hair and self-image," she said. "We are here to help children take care of that hair issue. Furthermore, with bullying on the rise, we have to take a stand. We decided that giving back was just as rewarding and not up for discussion. It was a call of duty."
In the more than 20-months since its founding, Tresses of Care has provided more than 30 clients with custom-made wigs at no charge.
One early custom wig was for a 17-year-old girl in anticipation of losing her hair following radiation treatment, after brain surgery for cancer.
"What was so memorable, was that the hair for her wig had been donated in 2018 by another cancer patient– Noah, then 15– whose doctor had said the teen wouldn't live to see Christmas," said Sanford. "Well, he's still living and so is the girl. Not every story has a sad ending."
Tresses of Care had scheduled an inaugural event for this November, but circumstances have dictated a change in the fundraiser and a venue. Future specifics will be available on its website. The current plan is for a walk-a-thon in conjunction with the Flower Mound Parks and Recreation Department.
The idea for a walk-a-thon is to be able to make the event "kid friendly." As Sanford said, the fundraiser is to benefit them.
"At some point, God says you have to give back," said Sanford. "So, let's give them an experience and create an illusion. We love our community and giving back is a must."
For more information, visit: www.tressesofcare.org; email: [email protected]; or call 972-914-9447.