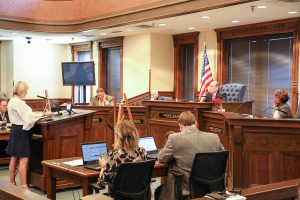 The Denton County Commissioners Court agreed Tuesday to create a Complete Count Committee to help increase awareness about the upcoming 2020 Census, according to a news release from the county.
Shannon Joski, director of administration, told commissioners the Complete Count Committee provides a vehicle for coordinating and nurturing cooperative efforts between state and local governments and the Census Bureau. The committee develops and implements a 2020 Census awareness campaign based upon knowledge of the local area.
"This is all about best practices," said Denton County Judge Andy Eads. "We build the infrastructure and work out strategy to assist the Census Bureau."
Work to ensure everyone is counted could result in additional seats with the U.S. Congress and the Texas Legislature, according to the county. It also can be critical in obtaining government funding for infrastructure and education.
"It is very important to count everyone," said Precinct 1 Commissioner Hugh Coleman. "This is a great move for us."
The U.S. Census Bureau is expected to roll out new technology for the 2020 Census that will make it easier for individuals to respond. For the first time, people can respond online, by phone or by mail.
Key dates for the Census 2020 count include March 23, 2020, when self-response begins and April 1, 2020, which is Census Day.