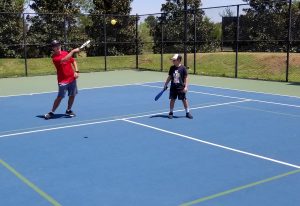 Pickleball is one of the fastest-growing sports in America and Lantana is ready for it.
Lines have been added to the Stadium Tennis Court to allow for pickleball play.
"Several residents reached out to the HOA board of directors about the possibility of adding pickleball court lines and the board thought it would be a great idea," said Lantana Community Association Manager Mark Norton.
Pickleball is a fun sport that combines many elements of tennis, badminton and ping-pong. Players use a paddle and a plastic ball with holes and it can be played as doubles or singles.
A pickleball paddle is smaller than a tennis racquet but larger than a ping-pong paddle. The game can be played by all ages and is particularly popular in school P.E. programs and active-adult communities.
According to the Sports & Fitness Industry Association's 2016 Participant Report, there are more than 2.5 million pickleball participants in the United States.
The pickleball court is open from 7 a.m. to 10 p.m. daily.