Plenty of Summer Left to Enjoy
By Larry Varnes, Resident Director, Robson Ranch HOA
It is hard to believe that "back to school" is fast approaching. Although we are an active adult community, summer is a time that we get to enjoy time with grandkids. But summer is also a time when we bring out the "kid" in all of us.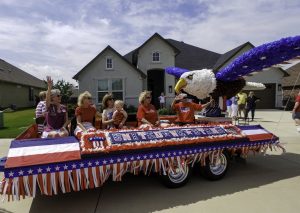 The centerpiece of our summer is the celebration of the founding of our country and the celebration of our Declaration of Independence. The 4th of July started out with a 5K run just to get the heart started. As the last feet crossed the finish line, we started our annual parade with a flyover from two vintage aircraft and a hovercraft. Typical of all great parades we followed with over 260 decorated golf carts proudly showing the red, white and blue. Interspersed were firetrucks, ambulances and representatives from Denton Police, the Constable and the Sheriff's office. Flags were waiving along the two-mile parade route, lined with residents cheering on their neighbors participating in the parade.
The great surprise was a fully automated eagle spreading its wings on the back of a flatbed built by neighbors on property. Let the annual competitions begin!
The parade took us to lunch. What better way to celebrate the 4th than hot dogs, hamburgers and a party with music on the patio of our Grill. Ok, a few of us also had a libation to celebrate those who have gone before us who paid the ultimate sacrifice to make us free. The day was capped off with a concert of patriotic music performed by our very own choir.
We still have lots of summer left even though the kids are heading back to school. You will find some of us in the pool or getting an early tee time to beat the heat. For many of us, retirement is just like being on permanent vacation. For those of us who still work (about 40% of our residents), it will be a return to normal. But normal at Robson Ranch is pretty special.
City Council Update
By Jesse Davis, Denton City Council, District 3
Over the last 20 years, natural gas exploration in the Barnett Shale formation has brought enormous economic opportunity to western Denton County. However, no great reward is without its risks. Even as our local economies grew, so did our knowledge. We have learned much about the environmental impact of practices like "fracking" and the health risks associated with gas wells located near homes, schools, and places of worship.
Our local governments have a duty to protect the health, safety, and general welfare of our citizens. As a result, cities like Denton have spent the last two decades crafting regulations for gas wells that balance the risks and rewards they bring. Striking that balance requires that we recognize three truths:
Mineral owners have the right to extract natural gas, with reasonable regulation.
Property owners have the right to develop their land, within reasonable limits.
The further people live from gas wells, the better it is for their health.
Denton has some experience in this area. In 2014, our citizens voted to ban all fracking within the city limits. In response, in 2015 the Texas Legislature passed HB 40, which confirms that only the State of Texas can regulate gas wells to the degree Denton had.
However, cities can still set commercially reasonable rules for where gas wells may be drilled. Some of these rules, called "setbacks," specify how far a new gas well must be from "protected uses" like homes, schools, and churches. In Denton, this is currently 1,000 feet. And, we may set rules for developers, called "reverse setbacks," that specify how far new protected uses must be from existing wells. This limit is currently only 250 feet, but the City Council is considering expanding it to 500 feet.
Even so, we still face two important legal hurdles. First, if a reverse setback prevents building on portions of someone's land, they can claim that the City has taken value from their property. If the City was sued and lost, the bill could be in the hundreds of millions. Secondly, over the years many landowners in Denton have been granted certain rights to build. These rights have "vested" with the landowners, meaning that the City can't legally take away that which we have granted. As a result, if new setbacks encroach on these vested rights and are challenged in court, we will almost surely lose.
Of course the City Council could pass setbacks that virtually guarantee no new homes would be within sight of a gas well. But you can see that to do so would bring legal and financial ruin upon our City. It's like the man said—sure, you could build an injury-proof car, but who could afford to buy it?
Then what is a responsible City government to do? We negotiate. The City Council and staff should take every opportunity to negotiate with developers for an easing of their vested rights. If developers ask the City for new zoning, we should offer a bargain that includes 500-foot reverse setbacks. If a developer asks the City for an economic incentive, or to create a special tax district, we should require 500-foot reverse setbacks. Indeed, our ability to impose this requirement might be the best aspect of some projects. It would give us the opportunity to negotiate a benefit for our citizens that we otherwise could not have hoped for.
Please don't hesitate to contact me on these issues and any others before the Denton City Council. You can reach me on my cell at (940) 208-7439, or by email at [email protected]. I look forward to hearing from you and thank you again for the privilege to serve. See you around town.