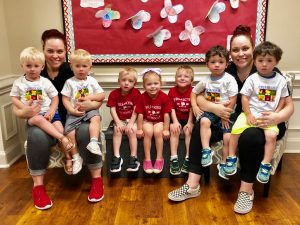 For one local preschool, National Twins Day is a big deal.
Primrose School of NE Flower Mound is celebrating National Twins Day all week with its students. Three of them are triplets, there are two sets of twins and even two teachers who are twin sisters.
Pictured from left to right are: Cooper Harrison, Toddler Teacher Maria Huerta, Brody Harrison, Ryan Strange, Ben Strange, Mason Strange, Ryan Hall, Brody Hall, Early Preschool Teacher Lie Lovin.
The school actually had one more set of twins last year, but they have since moved away.