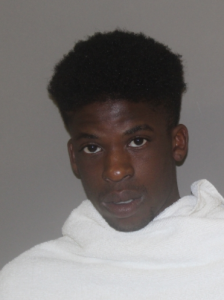 A man acting suspiciously at a Denton County Walmart on Friday was found to have a stolen handgun in his bag and was arrested, according to the Northeast Police Department.
Northeast police officers responded to the Walmart in Cross Roads on Friday evening to a reported theft in progress, according to a news release from NEPD. Officers caught and cited the suspect, and after finishing up with the incident, an employee told the officer still on scene about a suspicious man who had been standing in the shopping cart breezeway near the store entrance/exit. The man had been standing there so long the reporting employee assumed he was a new staff member on his break, but that wasn't the case so the employee asked the officer to check on him.
The officer went to the breezeway and checked on the man, who said he was waiting for an Uber shuttle and needed to use the store's WiFi. He said several things — including that he'd only been there for a few minutes — that conflicted what the store staff had told the officer, according to police.
The man claimed to have no photo ID but identified himself verbally to the officer, who checked the name in the system and found multiple outstanding warrants. The suspect — identified as 20-year-old John Richard Watson of Aubrey — tried to escape arrest, resulting in a physical fight that lasted a minute or two.
Once the officer was able to detain Watson, he took Watson's handbag and found a loaded handgun that had been stolen in a residential burglary in Irving.
Watson was arrested on suspicion of resisting arrest, unlawful carrying a weapon and theft of a firearm, as well as for the warrants for failure to identify and DWI. He was booked into Denton County Jail in lieu of more than $20,000 bail, according to jail records.
As of Monday, police don't know what Watson's intentions were.