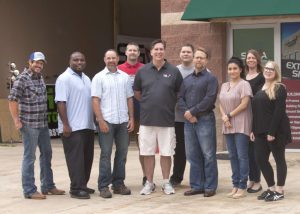 Like a growing number of North Texans, Phil Loftis and Dave Elliott weren't born in the Lone Star State, but got here as fast as they could. Good thing they did or there likely would never have been Sigma Signs and Printing.
They came to Texas about three years apart and while it took several years for their paths to cross, it's been a successful partnership ever since.
The Argyle and Flower Mound residents are two of the three owners of the business that recently moved from Highland Village to Lewisville.
Loftis, 43, moved from his native Maryland in the late 1990s. After starting his college career at Salisbury University, he spent eight years in the Naval Reserve and finished his degree in business finance at the University of North Texas. Today, he and wife Gianna have three children ages 9-15.
Elliott, 50, arrived in North Texas from Michigan where he had worked building test fixtures for automotive assembly lines, after a period of studying business and sociology at Central Michigan University.
After Elliott and wife Caroline had the first of four children in 1999, he decided to move to Texas and start a new career to be closer to family.
"While working for GE Capital selling insurance, it became clear that I really wanted to work for myself," said Elliott. "I identified a need in my hometown of Flower Mound and opened Mail Boxes & More in 2004."
Loftis also worked for other people after arriving in Texas. He started in the print business at Cooper's Copies & Printing in Denton. After managing Coopers Lewisville, he became general manager for an absentee owner at Signarama in Lewisville. He opened Sigma in 2008 due in large part to the impressive small business community in Denton County.
"It's the perfect sized community," Loftis said. "It's small enough where you get the opportunity to develop a reputation and stick to it. There are times when companies get too big you and lose that individual touch. If the area is too small, there isn't enough work to go around. Denton County is just right."
He realized he needed to expand his services to include full-service printing, signs and in-house design; He met Elliott through mutual business connections. They hit it off right away, merged in 2013 and opened in Highland Village.
"David was the only other person in town in the industry who held a similar value system," Loftis said. "It's matching-up a core set of competencies and core values – putting the client first and focusing on the customer experience instead of what we can and can't do."
With their Highland Village lease expiring– plus desperately needing to expand– they moved to a larger facility in Lewisville this March. Previously they had 2,000-square-feet, now they have more than 6,000. They also added a new partner, David Yeager, a master sign electrician, who had previously done 80-percent of the subcontracted electrical work for Sigma.
Loftis calls Yeager– a Richardson native living in Frisco– one of the rare people who will work however long it takes to get the job done right. After earning a business logistics degree from UNT in 2000, Yeager started building things and morphed into an electrical sign business called TC Commercial Signs. Yeager started creating signs for Loftis as far back in 2005.
The three are part of the 12 total employees focused on building relationships with contractors, developers and leasing agents resulting in more monument, construction and development work.
Sigma specializes in indoor signs, outdoor signs, banners, vehicle graphics, wall and window graphics, and general printing for retail and commercial customers.
The company works with clients from the beginning of the building concept to make sure there's space for appropriate signage, plus ensuring the work matches the clients' branding needs. And, they navigate the sometimes extensive permitting process by understanding municipality codes in DFW to as far away as Austin, Houston and San Antonio.
But, make no mistake, the leadership at Sigma Printing and Signs is heavily integrated in the local community through the chambers of commerce in Lewisville, Flower Mound, Frisco, The Colony, plus the Highland Village Business Association and the Flower Mound Rotary Club. They also sponsor many various groups throughout the year.
"It's all about the relationships," said Elliott. "It always has been for us. That's where I feel the focus is."
Contact Sigma Signs & Printing at 972-317-4467 or sigmasignco.com.