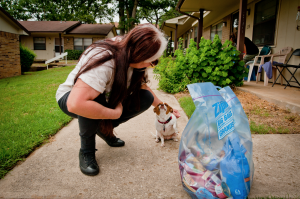 A benefit concert called "Polka for Paws" in Denton later this month will raise funds for Meals on Wheels and its program for pets of local seniors.
Meals on Wheels of Denton County is bringing Polka for Paws to Dan's Silverleaf music venue on Aug. 25 from 4-7 p.m., featuring Brave Combo and other local bands. The benefit concert will support Meals on Wheels' Senior Paws program, which provides dog and cat food to homebound seniors who can't afford pet food. General admission tickets are $15 and can be purchased at the door or in advance at danssilverleaf.com.
"Most of the seniors we serve are isolated- the only person they see on a regular basis is the volunteer bringing them their meal," said Michelle McMahon, executive director for Meals on Wheels of Denton County. "Many of these seniors have dogs or cats to keep them company and ease some of their loneliness. If a senior has trouble feeding themselves, how are they going to feed their pet? We started Senior Paws as a way to support seniors in need and to be more than just a meal – we are a group of people looking out for those in need, helping them to stay in their homes and assist them with being as independent as possible."
For more information, contact Meals on Wheels at 940-382-2224.