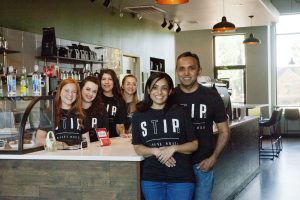 Her love of food, his for coffee and their passion for the culture of coffee, community and the contentment it brings, are what prompted Urvashi and Dipen Soni to open intimate places that serve all in the Metroplex.
After introducing their Sip Stir Coffee House concept two years ago in Uptown Dallas, they added a second location last October in The District of Highland Village. With everything running smoothly, they are planning an official grand opening Aug. 3. Among the festivities will be the first of many planned coffee tasting events where customers can sample different coffees and learn about their origins.
Sip Stir features locally-roasted coffee plus a variety hot and iced teas and smoothies. Eats include fresh-baked pastries, vegetarian toasts and grilled sandwiches.
So why did Irving couple choose Highland Village?
"Our research showed us how close knit the community at Highland Village was plus we knew the area from visiting friends in Flower Mound and Highland Village," she said. "When Edison Coffee Company moved to focus on a larger location in Parker Square, we jumped at the chance to introduce Sip Stir Coffee House at this wonderful location."
The Sonis are focused on a simple concept – "Community comes first."
"The community has been amazing and really supportive," she said. "It's been very enjoyable being in Highland Village."
Recently the Sonis incorporated paintings from local artist Hannah Aaron that depict their heritage – Urvashi is from India and Dipen is from Zambia.
Before taking over what was called the Sip Stir Café in Uptown and changing it to their tastes, Urvashi worked for seven years as a project manager for Sirius XM Radio in Irving. Dipen still works as a middleware engineer in Irving. They have one daughter, Saanvi, 9.
"We want this place to be where everyone can enjoy it and everybody is welcome," she said. "We see our Coffee House as a stage on which friendships are forged, relationships are renewed and the neighborhood finds a place to just hang out and have a good time."
Sip Stir Coffee House is located in The District of Highland Village at 2570 Justin Rd. Suite 140, Highland Village.