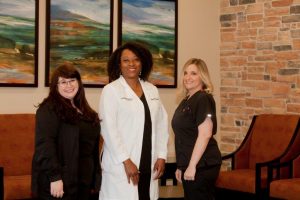 Before last year, people needing surgery or other treatments related to the pelvic floor in Flower Mound or the surrounding areas had to travel to Dallas, Fort Worth, Plano or Arlington.
After opening the Pelvic Health and Reconstructive Surgery Center at Texas Health Presbyterian Hospital Flower Mound in 2018, members of the Flower Mound community are able to obtain these services close to home. The center is now ready to complete its first year under Medical Director Marie-Blanche Tchetgen, MD, who was recruited from USMD where she started a similar program several years ago.
"The hospital had a mission to bring this kind of care to the area," she said. "We have a great team of caregivers and I'm glad to have a chance to spearhead the effort."
Tchetgen is the quarterback of a multi-disciplinary team of specialists in urology; female pelvic medicine and reconstructive surgery; gynecology; colorectal health and physical medicine; and, rehabilitation. This team-approach facilitates the comprehensive management of disorders affecting pelvic function.
"The Center brings all those doctors under the same umbrella, allowing us to address all aspects of disorders of the pelvic floor in a coordinated effort," Tchetgen said.
Less than a decade in existence, the sub-specialty is a relatively new formalized niche in the medicine world. It operates at the intersection between urology and gynecology to address dysfunctions of bladder control and pelvic organ support, that primarily affect women who are menopausal or past their child-bearing years.
Tchetgen said most men and women above age 65 will experience some bladder control issues. Despite its emphasis on caring for women with issues of pelvic support related to childbirth, the services offered by the center may also benefit men with bladder control issues.
"It's a sub-specialty that's always been around, but about six-years-ago, a sub-specialty certification in Female Pelvic Medicine and Reconstructive Surgery (FPMRS) was established to promote this field; enhance its quality and facilitate the access of this type of care to patients," Tchetgen said. "The whole idea is to focus specifically on disorders of pelvic function and pelvic anatomy in men and women."
Patients come to the Center with any number of problems including urinary or fecal incontinence, bladder or vaginal prolapse, difficult urination and pelvic pain. Remedies include non-invasive, minimally-invasive and traditional in-hospital surgeries, in-office procedures plus physical therapy. The robotic, minimally-invasive surgeries– that take the laparoscopic approach– often reduce the time patients spend in the hospital and speeds up the time it takes to recover from the procedure.
"The most challenging aspect of treating conditions of the pelvic floor is that people have difficulty discussing the related symptoms with their providers," Tchetgen said. "These are not easy topics. By creating the Center, we hope to demonstrate to the community that these are very common disorders that are experienced by many; and, certainly nothing about which a person should feel ashamed or embarrassed.
"While most of these conditions are not life-threatening, they can have a significant negative impact on a person's day-to-day activities and enjoyment of life. It's very rewarding to be able to restore some quality of life. We try to offer solutions in a very compassionate environment, very matter-of-fact and, in many ways, make it easier for patients."
Tchetgen said the Center allows patients with multiple, yet related, issues to be treated in one setting.
"For example, a patient may come to the Center with bladder issues and I might notice the uterus is prolapsed," she said. "To fix that, we must address the anatomical issue of the prolapse and then I would get a hold of a gynecologist and say, 'hey I have a patient whose uterus is pretty much out of her body, but it's obstructing her bladder,' causing her to have difficulty voiding so we need to address that.
"In this situation we would typically recommend a hysterectomy and correct other issues at the same time. We do a lot of combined surgeries."
Surgeries address reconstructive, incontinence and bladder control issues, including trans-vaginal repairs of vaginal prolapse, fistulas and diverticulum. If a hysterectomy is required, a gynecologist would perform it. In-office procedures include Botox injections to relax the bladder muscles and/or bulking injections to help block leakage.
Though surgeries can put things back where they belong, patients still need to work on regaining full function through specialized physical therapy. Tchetgen equates it to the same restoring of muscle and joint function for people who have their hips replaced.
Those with pelvic pain caused by muscle dysfunction can likely be helped through therapy and without surgery, including guided Kegel exercises to strengthen their pelvic floors.
Tchetgen said the advantage of having such a center in a hospital-setting is having the often expensive diagnostic equipment at their fingertips. It also allows the team to conduct urodynamic lab studies, which allows the physician to characterize pelvic floor issues better.
After just a year on the job, Tchetgen and her team already are seeing a big increase of people taking advantage of the center's services.
"There's a great need and it's been a matter of letting referring doctors know we are here; and, it has picked up pretty quickly," she said. "We're already running at 75-to 80-percent of capacity as we come to our first anniversary. It's been exciting to bring these services to Flower Mound, where our patients can be treated close to home."
To schedule an appointment, call 469-322-7096.
Texas Health Presbyterian Hospital Flower Mound is a joint venture owned by Texas Health Resources and physicians dedicated to the community and meets the definition under federal law of a physician-owned hospital. Doctors on the medical staff practice independently and are not employees or agents of the hospital.