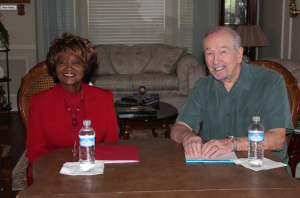 How much does the average resident know about the role of Commissioners in Denton County? Well, the Commissioners Court is the general governing body of Denton County. The Court is made up of the County Judge, who is elected countywide and presides over the full court, and the four County Commissioners, each of whom is elected from one of the county's four precincts. Those 4 commissioners have responsibilities that cover their precinct and the entire county. Elected for 4 year terms, they're responsible for, among other things, the construction and maintenance of county roads within their precincts.
Some Commissioners maintain offices both at the Courthouse-On-The-Square and within their precincts. They are responsive to the particular needs of people living within their areas of the county. In addition, each member of Commissioners Court serves as a liaison to a particular board or agency of the county. Despite the name, Commissioners Court is not a judicial court but is the general governing body of the county. Some of the major duties of the court include setting the tax rate and adopting the county budget. In addition, the court appoints county officials and hires personnel; fills elective and appointive vacancies; establishes voting precincts and calls for county bond elections. They also provide for veterans assistance and are responsible for the maintenance and improvement of county facilities, including jails.
Commissioner Bobbie Mitchell was elected in Precinct 3 in 2000 and is running for reelection to her sixth term. She lives in Lewisville with her husband Fred. They have 2 children, 9 grandchildren and 3 great-grandchildren. With decades of commitment to the community, including 7 years as Lewisville Mayor, several years of service as councilmember, P&Z Commissioner, Zoning Board of Adjustment and numerous other boards, Commissioner Mitchell has a well-documented background of experience in public service. Moreover, anyone who has been to some of the political or community events in the area can testify that Bobbie gives the most enthusiastic and stimulating invocation they've ever heard.
In the interview, Commissioner Mitchell brings residents up to date on the latest rulings by the Court and the positive effects it has on them and their families. Also, for those who may not know what precinct they're in, she spells out the boundaries. Her campaign website is: votecommissionermitchell.com
The Commissioners Court meets at 9 am, every Tuesday, in the Commissioners Courtroom on the second floor of the Courthouse-on-the-Square, 110 West Hickory Street, Denton. All meetings are open to the public and citizens are urged to attend. For more info please click on www.dentoncounty.com/Departments/Commissioners/Commissioner-Pct3