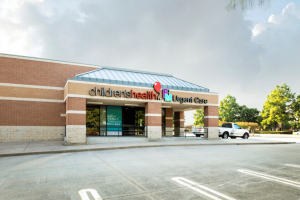 Children's Health and PM Pediatrics opened a PM Urgent Care practice in Flower Mound this week, their third PM Urgent Care in North Texas.
Children's Health is the eighth largest pediatric health care provider in the nation and PM Pediatrics is the nation's largest provider of specialized pediatric urgent care, according to a news release from Children's Health.
The new practice is located at 2650 Flower Mound Road, Suite 108.
"The communities north of Dallas are among the fastest growing cities in the nation," said David Berry, president of system clinical and scientific operations at Children's Health. "As we continue to explore ways to make life better for children, we recognize the immediate need for pediatric urgent care practices in this market. Today, patients and families in North Texas now have three options for specialized pediatric care with our new locations the Northern Market."
Children's Health PM Urgent Care is open 365 days a year from noon to midnight to treat non-life-threatening common conditions in newborn through college-age patients, according to the news release.
Dedicated solely to the treatment of children and young adults, the practice is staffed by board-certified pediatric emergency physicians and pediatricians, and features an onsite digital X-ray, EKG and laboratory.
In addition to treating a variety of illnesses and injuries, including fever, infections, wounds requiring stitches, fracture management and respiratory care, the practice also treats dehydration, which is particularly important during cold and flu season and when treating heat-related illnesses.
"The need for pediatric urgent care in this growing part of Texas is evident by how quickly the community has embraced our additional practices that opened in 2018 and earlier this year," said Steve Katz, co-founder of PM Pediatrics. "Alongside Children's Health, we look forward to providing our unparalleled specialized care to the families in the Flower Mound region."