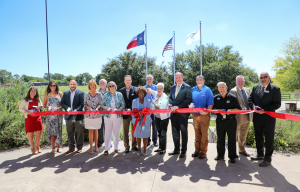 Denton County Commissioner Precinct 3 Bobbie Mitchell, Hickory Creek Mayor Lynn Clark, Denton County Judge Andy Eads and area dignitaries cut the ribbon Thursday to commemorate the completion of the Point Vista and Turbeville expansion project.
The project widened Point Vista into a three-lane, undivided concrete road and Turbeville into a four-lane, divided concrete road in Hickory Creek, just across the water from Highland Village. Started in February 2018, the $2.265 million construction project was recently finished, according to Denton County.
"The completion of these two roads, Point Vista and Turbeville, is leading to smoother transportation for Lake Cities residents and those who visit," Mitchell said. "Good roads add to quality of life and economic development."
"I want to thank Denton County and, in particular, Commissioner Mitchell, for working with us to expand these roads," said Hickory Creek Mayor Lynn Clark. "We couldn't undertake these projects on our own."
Several dignitaries gathered for the event at Hickory Creek Town Hall, including Denton County Commissioner Precinct 4 Dianne Edmondson.
County funds from the 2008 bond program were earmarked to cover a large portion of the reconstruction of Point Vista and Turbeville.
Judge Eads spoke about how his great-grandfather farmed near where the two roads were rebuilt, adding that he would be surprised at how much the area has grown and changed.
"This is a unique partnership we have with our communities, particularly in dealing with mobility," Eads said. "We understand the importance of planning ahead to create a network of transportation that supports a vibrant, healthy economy as well as easier access for residents."