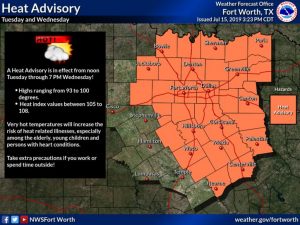 The National Weather Service is issuing a Heat Advisory for North Texas, effective from noon Tuesday through 7 p.m. Wednesday.
High temperatures on both days are expected to reach mid-90s up to around 100 degrees, with heat index values between 105-108, according to the NWS forecast. This heat "will increase the risk of heat-related illnesses, especially among the elderly, young children and people with heart conditions."
Anybody planning to spend time outside is urged to take extra precautions and stay hydrated. Dress for the heat, reduce the time in the sun between 10 a.m. and 4 p.m., and never leave children, disabled adults or pets in parked vehicles.
The forecast calls for continued hot and dry conditions through the rest of this week and weekend, with high temperatures in the mid to upper 90s.