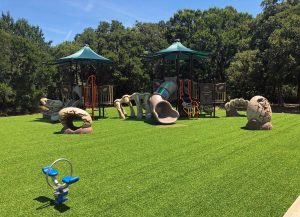 Thrush Park has reopened to the public after about three extra weeks of site work.
The playground has nearly doubled in size is now home to a dinosaur-themed playground and a new shaded play structure for 2-12 year olds, and another for 5-12 year olds, according to a news release from the town of Flower Mound. Park-goers can also enjoy a see-saw, dinosaur eggs, swings, grass-like synthetic turf, and "Biba," a digital game that can be installed on your smart phone.
The park was opened to the public in mid-June, but less than a week later it was closed again because it needed more  work, according to the town of Flower Mound. Site work included: base rock removal from around the perimeter of the playground, grading, topsoil replacement, concrete repair and seeding to re-establish grass in those areas. The park was reopened Thursday, after about three weeks.
Thrush Park, 950 Sun Ridge Drive, joins many other parks in Flower Mound with new fun themes, such as Wild West, Fire/Rescue and locomotives.
Click here for more information about this park and the others in Flower Mound.