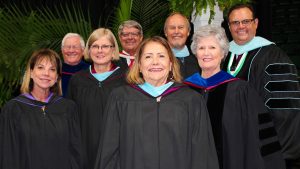 The Denton ISD Board of School Trustees was selected as the 2019 Region 11 Outstanding School Board by a panel of school superintendents on Thursday, July 11.
"Our Board members bring different strengths and insight as they work together to continually improve the district and provide what is best for all students," said Dr. Jamie Wilson, superintendent. "They hold themselves and me accountable for reaching goals as we constantly strive to improve."
The 2018-2019 Denton ISD Board of Trustees includes Mia Price, president; Charles Stafford, vice president; Dr. Jeanetta Smith, secretary; Dr. Jim Alexander, trustee; Barbara Burns, trustee; Doug Chadwick, trustee and Dorothy Martinez, trustee.
The superintendents' nomination centered on the accomplishment of the Board's Goals and Legislative Agenda that included: expansion to a full-day pre-kindergarten program across the district, improved compensation for all employees and the strengthening of the support for students' social and emotional welfare, according to a Denton ISD news release.
"The Board works to keep all constituents informed, even when there are tough decisions," Wilson said. "Their engagement with the community is so strong the most recent Capitol Improvement Election earned a passing rate of 74.4 percent and the Tax Ratification Election passed with an approved of more than 80 percent, within in the same, one-year period."
The school board award, sponsored by the Texas Association of School Administrators (TASA), was created in 1971 to recognize those school boards that have demonstrated outstanding dedication and have rendered ethical service to the children of Texas.
Denton ISD's application has been forwarded to TASA in Austin to be considered for the state award. The TASA selection committee will review all 20 regional entries and announce five finalists on Aug. 9. These finalists, designated as "Honor Boards," will then be interviewed by the state selection committee and the state winner will be named the "Texas Outstanding School Board" for 2019. All five boards will be recognized at the TASA/TASB Convention on Sept. 20.
"The Denton ISD Board of Trustees, with a collective 90 years of service to the children and educators of our community, continues to provide me and this district with unwavering support and guidance," Wilson said. "Each of them, individually and collectively, are clearly outstanding advocates for public education."