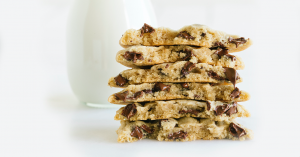 Tiff's Treats is now open in The Shops at Highland Village.
The small Austin-based bakery chain sells cookies, brownies, ice cream, ice cream sandwiches, cookie and brownie trays, drinks and more, and customers can buy them in store or order them for delivery. The Highland Village location — 4131 Deer Creek, Suite 115 — is the company's 50th store, and the company is planning a couple promotions to celebrate 50 stores.
First will be the Highland Village grand opening event, which will run from 9 a.m. to 1 p.m. pm Saturday, July 6. The first 40 people (18 or older) in line will receive $100 gift cards, and everyone else in line at 9 a.m. will get $10 gift cards. Cookies will be sold for $5 per dozen (regularly $16 per dozen), and flavor choices will be limited to chocolate chip, oatmeal raisin and snickerdoodle. Only debit and credit cards will be accepted, and though Tiff's Treats usually needs 30 minutes notice for a pickup order, there will be no need to call ahead during the event.  Everyone who attends will have a chance to win free cookies for a year, as well as gift cards from local restaurants and shops inserted into random boxes of cookies.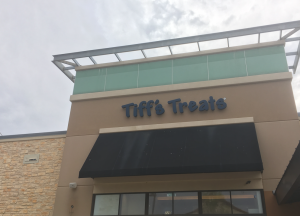 All sales, up to $5,000, will benefit A Wish With Wings, a nonprofit that grants wishes for young Texans diagnosed with life-threatening medical conditions.  All of the day's proceeds will fund 3-year-old Reagan's wish to go to Disney World. Reagan, who was diagnosed very young with Neuroblastoma, is now doing well, and the trip will be a celebration of the long journey her family has overcome.
In addition to the grand opening on Saturday, Tiff's Treats is holding a company-wide "Golden Ticket" gift card giveaway to celebrate the 50th store milestone. Customers could find one of 300 gift cards — valuing $10, $50, $100, $500 or the grand prize of $1,000 — in their box of cookies if they order on Tuesday, July 9 from any Tiff's Treats location.
"It's fitting that our 50th store is opening in Highland Village, in the Dallas area where we're from, where the Tiff's Treats idea was born and where we opened our second ever location," said Tiff's Treats co-founder Tiffany Chen. "Opening 50 stores, all company-owned, is a meaningful achievement for us and only the starting point of our growth to come," she said.
The Highland Village location isn't the only Tiff's Treats coming to Denton County. Another shop is expected to open late this year in Denton at 2320 West University Ave.
Click here for more information.