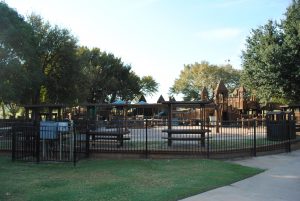 Contract negotiation has been authorized for the engineering and re-build of Kids Kastle, the playground at Unity Park in Highland Village.
Last week, the Highland Village City Council approved the resolution to begin negotiation with Play by Design, according to a news release from the city of Highland Village. Kids Kastle was designed and built by the community in 1994, and the play area has reached the end of its useful life and is in need of replacement, according to the city.
Voters approved funding for the re-build of Kids Kastle in the November 2017 bond election. Staff solicited requests for qualifications from qualified vendors for the project, according to the city. Community engagement will begin in the fall with a design day kick-off meeting for the community build project.