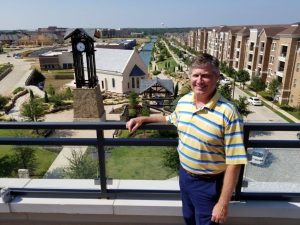 It's a pleasure to serve Flower Mound as Mayor and part of that job is to answer questions from friends and neighbors. Here are a few common questions I receive, so I thought it would be helpful to provide this information for everyone:
When is the Dam Road opening again?
The Dam Road, also known as Fairway Drive, is closed for the foreseeable future. The Town's Executive Director of Public Works Tiffany Bruce told the Council in May that there is no set timeline for the necessary repairs to occur.
We're coming up on a year since the U.S. Army Corps of Engineers initially closed it (August 2018) due to safety concerns after a routine inspection. However, we hope to have more information in the coming weeks that will provide some additional clarity. The Town will continue to publish updates on its website and social media accounts, when they are available.
How much money does the Town get from tickets?
As with any other municipality, there's a common misconception that police have a ticket quota to fill or that the money collected from tickets is a major source of a city's revenue.
There are actually two parts to a ticket's total cost, the actual fine and court costs. The fine portion is what the Town collects and that money goes into the Town's general fund. The majority of the second portion, the court costs, goes to the State. Using rounded numbers, the Town keeps about 60 percent and the State receives 40 percent of the total bill.
Each year, the Town collects about $1.09 million on average (using 2017 and 2018 data) in revenue from tickets, accounting for only about one percent of the Town's total funding resources. Ticket fines include traffic and penal code violations, such as assault, theft, disorderly conduct, etc. It also includes fines from health and safety, code, and animal control violations. Interestingly, the Town has collected about 30 percent less in traffic-related fines through the first quarter of this year, compared to the previous year.
What's the latest River Walk news?
Construction continues on restaurant row, which is three separate buildings connected with covered walkways. Nate Champion's Prime Steak & Chop House, Cuvée Wine Bar, Pizzeria Ascoli, Los Caminos, and Flo Mo's Burgers were named as future tenants.
The chapel and special event center are almost finished. In addition, Home 2 Suites, an extended stay hotel, purchased land in the River Walk and has submitted building plans.
Is there a community storm shelter?
This questions pops up around this time of year, when we have a lot of severe storms. The simple answer is no, we don't have a community shelter. It isn't possible to build a shelter for our entire population, nor would it be safe to have everyone drive there in the middle of a storm. Unfortunately, during a tornado, no above-ground building could be deemed completely safe either. The best thing to do is shelter in place, which means finding a safe location inside and staying there until it's safe. I encourage you to sign-up for the Town's emergency notification system at www.flower-mound.com/emergencynotifications.
If you have a Town-related question, please feel free to reach out to me at [email protected]. I hope you and your family have a safe and happy Fourth of July!