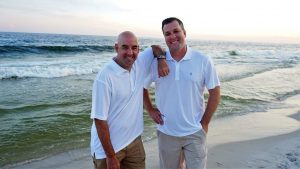 Watch The Price Is Right and it's easy to notice how crazy people can act when chosen to "come on down" as the next contestant on the long-running game show.
Flower Mound's Brandon Meche followed the script and more when he was invited down to Contestant's Row at a Dec. 18 taping at CBS Television City in Hollywood, California. But Meche's exuberance was not for the same reasons as most people. He acted as he did hoping to bring some laughter and joy to his friend Troy Zupancic, who was dying of cancer.
Unfortunately, only 11 days before the show aired, Zupancic passed away on Feb. 10, 2019. Meche and his family were able to join Zupancic's family watching it and share in the memories of the joy he missed.
Meche and Zupancic met six years before, when their youngest sons were on the same soccer team Meche coached. They soon learned each had two sons and one daughter, all ironically matching in age.
Kaitlyn Meche and Hailey Zupancic are now 14, Jackson Meche and Michael Zupancic are 11 and Ethan Meche and Matthew Zupancic are 9. They have become the best of friends, as have their mothers– Sarah Meche and Christie Zupancic.
Over that next year, the men saw each other as opponents on area T-ball fields and basketball courts, especially at the Cross Timbers YMCA and Grapevine's Fieldhouse USA. But they also kept running into each other at places like church and DFW Airport.
"It was crazy," said Meche. "We were at all the same places and found out we lived a mile apart. It was kind of funny how that worked out. He was like a twin from another life.
"Once we knew we were playing each other, it became the one game we wanted to win. It was ultra-competitive. I'm sure he said, 'I know this coach. Their team is good and we've got to go out and beat them.' Sure enough his girls' team beat our girls' team by one point."
When they ran into each other at the airport, Meche asked Zupancic about combining into three basketball teams and coaching them together. Zupancic loved the idea and soon they agreed to practice on Tuesday nights, one team from 5-6, another from 6-7 and another from 7-8.
"That was the starting point," Meche said. "From then we started to do everything together. It started about three-years-ago and we did it for probably two years.
"We would sit down weekly, like NBA legendary coaches, in the corner at the Black Walnut Café the week before games and look at YouTube videos of different drills or offenses or defenses we wanted to use in games and would analyze everything. It was awesome!"
Just over a year ago, Zupancic was told he had cancer when a large lump in his left calf was diagnosed as a massive tumor.
"It was completely out of the blue," Meche said. "He was a completely healthy guy. He was a big guy, maybe 6-4 or 6-5, who worked out all the time.
"I told him 'we're going to get through this. It's a little bump in the road and let's get it knocked out. It's localized and we'll get it taken care of and get back into coaching in the summer season.'"
Chemotherapy treatments shrunk the tumor to where surgery could be performed. It initially proved successful as tests last summer indicated he was cancer-free. But by fall, a spot on his lung was discovered and, as he became weaker, he was not able to attend his children's games though he did watch them on the Periscope live video service. When the two coaches got together, nearly all they talked about was basketball.
While at home, Zupancic became attached to The Price Is Right and knew Meche, who works in artificial intelligence technology sales, had several clients in Southern California. So, he urged the Meche's to attend the show, which they did last July, a show that aired in October. While neither was selected to appear on Contestant's Row, they were seen in the audience several times making faces for about 30-seconds.
"Troy got the biggest kick out of that and so every single time he had people come to the house … he must have watched that episode at least six times," Meche said. "And, there's nothing to watch out for, but he got a kick out of it."
Zupancic told Meche he needed to try again to get on the show, so the week before Christmas 2018, Meche got a ticket, but was apprehensive. This time Sarah was not there and he had a flight to catch later that day. Yet, after a pep-talk in which she reminded him why he was there, he became determined to get on the stage.
He told his story to longtime The Price Is Right co-producer Stan Blits, who interviews all 300 contestants.
"He usually talks to people for 10- to 15-seconds and moves on to the next person," said Meche. "But, he and I talked for probably a full minute. He asked me if I was alone and I said, 'yes, except I have a good friend who's with me in spirit and he watches The Price is Right every day and I'm here to give him a good show.'"
When Meche walked in, whether it was divine intervention or not, the page escorted him to a special seat and soon he saw a poster board that said: "Jeremy Meche" (his birth first name), meaning he had been chosen to compete.
"From that moment, every half-second that I'm in any shot of a camera, I'm going to be as stupid and goofy as I can," Meche said. "I'm going in full character-mode. I'm intentionally doing it, because it's for Troy. I'm going to make him laugh until he can't laugh anymore."
Meche was the first person called and overbid on the first prize. He was the closest on the second prize, six pairs of Ray-Ban sunglasses, then when he went on stage, he acted even crazier including high-fiving host Drew Carey.
"One of the last things Troy told me before I left was, don't leave without a car," Meche said.
Meche played a game called Temptation, where four prizes– valued between $6,000 and $7,000– are presented to the person with the option of taking all four and walking away, or gambling on the price of a car and winning everything or nothing. Of course, Meche went for the car, but missed by one number.
When he spun the wheel for the Showcase Showdown, he was asked to say hello to anyone he wanted and acknowledged his family and, "Coach Troy, I love you."
"I didn't care if I won any prizes," Meche said. "It was about putting on a show for him. I was in full-character mode. It was all for my buddy."
After the show aired, Meche asked Blits if he could have Carey send an autograph to the Zupancic's family, which Blits arranged.
"Needless to say, they'll never watch that show the same way again," Meche said. "I might not have won a brand new car, but I had the opportunity to be on the show and his family was able to get a great laugh out of it."
They'll remember him in another way as Meche changed the name of their boys' basketball team from the Mavericks to TAZ for "Tough as Zupancic." Either way, Meche will never forget his friend.