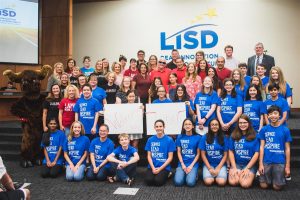 The Lewisville ISD Board of Trustees approved four new principals during Monday night's board meeting, including one for Lamar Middle School.
Kristy Casal was named the new principal of Lamar Middle School, replacing Chad Russell, who was approved last month to be the principal at Flower Mound High School. Casal has been serving as an assistant principal at FMHS for the last three years.
Casal joined LISD in 2005, serving as a Spanish teacher for seven years at FMHS, according to a news release from LISD. She then moved into administration and spent four years as an assistant principal at Lamar Middle School. Prior to LISD, Casal had teaching stops at Lake Dallas Middle School in Lake Dallas ISD and Williams High School in Plano ISD. She received a Bachelor of Arts in English and Spanish from the University of Louisiana at Monroe and Master of Education in Educational Leadership and Policy Studies from the University of Texas at Arlington. Casal is certified in Secondary Spanish and English as a Second Language in grades 6-12, and is also bilingual.