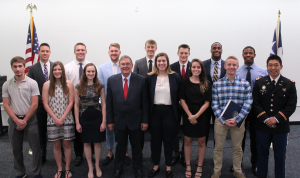 U.S. Congressman Michael Burgess (TX-26) announced last week the Class of 2023 Service Academy Appointees from the 26th Congressional District.
This summer these young men and women from Denton County and part of Tarrant County will be entering the U.S. Military Academy at West Point, New York, the U.S. Naval Academy at Annapolis, the U.S. Air Force Academy at Colorado Springs, and the U.S. Merchant Marine Academy at Kings Point, New York, according to a news release from Burgess' office.
"It was my privilege to nominate outstanding young men and women from North Texas as they commence a career of service to our country," Burgess said. "The Armed Forces are the arsenal of our democracy, and our most critical resource. On behalf of the 26th Congressional District, I commend these young men and women who have pursued and accepted the call to duty."
Students requesting appointments to the U.S. Service Academies are evaluated rigorously on a variety of criteria including academic performance, leadership qualifications, and physical preparedness. Appointments to an academy must be preceded by a nomination from a Member of Congress, an Academy Superintendent, the Vice President, or a military-connected nomination.
Burgess honored the appointees at a reception hosted by the city of The Colony. Burgess presented all appointees with a Special Certificate of Congressional Recognition and an American flag flown over the U.S. Capitol in honor of their appointment.
Students residing in the 26th Congressional District entering the U.S. Service Academies include:
U.S. Military Academy                                            
Meredith Fusselman (Roanoke)
Zachary Laible (Frisco)
Daniel Park (The Colony)
U.S. Naval Academy
John Brand (Flower Mound)
Jake Carrillo (Flower Mound)
Jaden Fanning (Lake Dallas)
Jack Tabor (Frisco)
Mark Vaughan (Flower Mound)
U.S. Air Force Academy
Blake Covin (Flower Mound)
Sophia Davis (Roanoke)
Merrick Seeley (Argyle)
Trey Taylor (Frisco)
Adam White (Frisco)
Madeline Williams (Keller) 
U.S. Merchant Marine Academy
Jessica Gamsjager (Lantana)
Riley Hicks (Frisco)
Cassidy Jester (Corinth)
Brian Wawczak (Flower Mound)