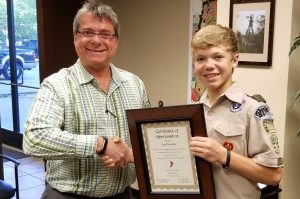 Monthly roundup of news from Lantana, TX as published in The Cross Timbers Gazette.
Lantana Trail Improvements Underway
Our main drag is getting some much-needed attention.
Lantana's developer is in the process of repairing the dilapidated marketing signs along Lantana Trail.
"Eventually they will remove all of them other than the directional signs in the medians," said Lantana Community Association Manager, Mark Norton.
Norton said the homeowners' association will eventually take responsibility of the median signs as well as the banners on the light poles.
Reflective strips are being installed by the Fresh Water Supply District on the concrete medians at intersections along Lantana Trail to improve motorists' visibility at night.
The FWSD boards also approved a bid in the amount of $8,899 to repaint all 39 streetlight poles along Lantana Trail. This will be the first new coat of paint since the lights were installed by CoServ 18 years ago.
The boards also discussed eventually repaving the northbound lanes of Lantana Trail, which one board member compared to a "ride at Six Flags."
There's several reasons for the road's bumpy condition, explained Rich Harned, district controller. "Trucks are loaded going in and there are utilities buried deep under the northbound lanes."
No timeline was set for repaving the lanes, but board members discussed waiting until the development was built out, which should happen by the end of 2021.
At the north end of Lantana Trail, on Haverford Lane in Barrington, construction is underway on a new 4,800-square-foot community center. The center is expected to open by March 2020.
District Approves Website Makeover
The Fresh Water Supply District's website will be getting a new look this year.
The boards in May voted to approve $7,800 to develop a redesigned, custom website aimed at improving the experience of site visitors.
The district is switching from a local mom-and-pop company that first launched the website eight years ago to Troy, Mich.-based Revize LLC, a company with more than 20 years of experience specializing in government website design.
"From the presentations and proposals we saw, this was the best value for the money with the cyber security and no single point of failure," said FWSD #6 President Sheldon Gilbert.
The new provider promised that users could access any information on the website with one click and the site would be more secure and accessible.
Residents will have the ability to sign up for district alerts via email or text message on the new website, according to Rich Harned, district controller.
Revize will provide on-call tech support for the lifetime of the website, continuous search engine optimization, functionality technological advances, content management system software updates and website health checks.
The Denton County Fresh Water Supply District 6 & 7 and Development District 4 website address is www.lantanatx.org.
Meet the Lantana Ladies League Board
Submitted by Eileen Weidman
The Lantana Ladies League elected a new board for the 2019-2020 season.
The new board members are as follows:
Executive Council: President – Eileen Weidman; Vice-President – Kristine Hallingstad; Secretary – Michelle Lopez; Treasurer – Wileen Carr.
Directors: Communications Director – Siri Katti; Community Service Director – Vonnie Hale; Charity Events Director – Jill Rhea; Membership Director – Lisa Jackson
Coordinators: Community Service Volunteer – Krista Middleton; Community Service Outreach – Lisa Clark; Special Interest Groups – Joy Barmore
Chairs: Amazing Race Chair – Rosemary Wright; Casino Night Chair – Jenae Hibbard; Social Chair – Bea Bragg; Quarter Auction Chair – Krista Middleton
The league will hold its last event for the 2018-19 season by hosting a social so that members may meet the new board and provide feedback. The board wants to hear from you, so please mark your calendar for this event on Tuesday, June 11, from 6:30 to 9:30 p.m. at Grapes to Wine in Bartonville Town Center.
For more information on Lantana Ladies League, go to lantanaladiesleague.wildapricot.org or visit the Lantana Ladies League Facebook page.
Development Watch
Lantana had 3,792 occupied homes as of May 15 with an estimated population of 12,324.
There were 2,110 single-family building permits issued in Fresh Water Supply District #6 and 1,812 permits issued in Fresh Water Supply District #7 for single-family homes through the month of April, for a total of 3,922 permits. Total build-out is estimated to be approximately 4,000 homes.
Plans have been submitted, reviewed and approved for a remodel of Kroger. The scope of work includes renovation of the deli and bakery areas, change out of several refrigerated cases, reworking the clothing area, paving repairs and drainage improvements to the outside sales area.