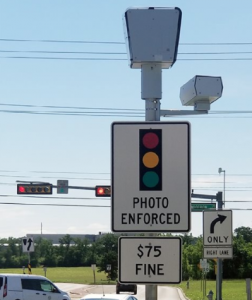 Texas cities that have red light cameras — including Denton and Roanoke — have suspended their red light camera enforcement programs after Gov. Greg Abbott signed into a law a new state law banning red light cameras.
"Red-light cameras violate the right to due process guaranteed under Article 1 of the Texas Constitution by creating a presumption that the registered owner of the car committed a violation when in fact that may not have been the case," said state Sen. Bob Hall, R-Edgewood, who is sponsoring the legislation originally offered by state Rep. Jonathan Stickland, R-Bedford.
The city of Roanoke says that the cameras were a "proven safety measure at major intersections and greatly reduced accidents at these intersections," but its contract with Redflex Traffic Systems stipulates that the "service terminates immediately in the event of adverse State legislation (banning cameras)."
The bill became effective on Sunday. The city of Denton said that no more violation notices will be issued.