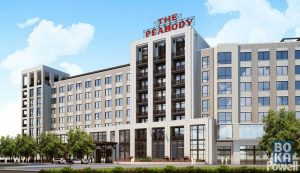 Plans for The Peabody Roanoke hotel were approved at the Roanoke City Council meeting on Tuesday, marking a significant step forward for the project that was initially announced in June 2017.
Plans for The Peabody Roanoke call for 300 rooms and more than 25,000 square feet of flexible event space. Other amenities are to include two restaurants, two bars, a high-end spa and athletic club, and an open rooftop with a swimming pool and a Duck Palace for the Peabody Ducks.
As with the original Peabody hotel in Memphis, The Peabody Roanoke will include an expansive lobby with a fountain at its center and an overlooking mezzanine. A highlight of the lobby — and of the hotel itself — will be the continuation of the long-standing tradition of the March of the Peabody Ducks, which Peabody Hotels & Resorts will be bringing to North Texas.
"We have worked hard to foster a relationship with Roanoke's leadership over the last few years in the development of The Peabody Roanoke. And, after much discussion and negotiation, we have reached an agreement with Roanoke City Council and are eagerly anticipating spreading our wings to Texas," said Douglas V. Browne, President, Peabody Hotels & Resorts.
The city of Roanoke expects The Peabody Roanoke, which will be next to the new City Hall building, to be "an anchor to South Oak Street." It is expected to be completed by April 2022.
"Our mission for Roanoke has long been focused on creating a unique and authentic sense of place, and we feel that bringing the Peabody brand to Roanoke will be the perfect fit," said Carl "Scooter" Gierisch, Jr., Mayor, City of Roanoke.
A division of Belz Enterprises of Memphis, Tennessee, Peabody Hotels & Resorts is a hotel and resort management venture developed around the long-established brand of its historic flagship property The Peabody Memphis.