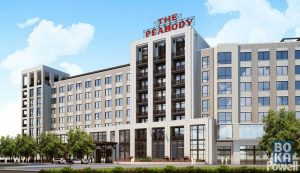 A luxury hotel known for its marching ducks is coming to southern Denton County.
Plans for The Peabody Roanoke were announced Thursday in a joint news release. The eight-story, 300-room hotel will be built on Oak Street in downtown Roanoke and is expected to open within the next two years.
The project is still in its early stages, "but we are committed to our partnership with the City of Roanoke and dedicated to bringing the Peabody brand to North Texas," said Douglas V. Browne, president of Peabody Hotels & Resorts, in a prepared statement.
Like the original Peabody hotel in Memphis, Tennessee, the Roanoke hotel will have an expansive grand lobby with a mezzanine overlook and a large fountain with mallard ducks, for which The Peabody Memphis is famous.
The current plans call for more than 30,000 square feet of meeting and event space, a restaurant, two bars, a high-end spa and fitness center and a rooftop swimming pool, according to the news release.
The hotel is "strategically situated" near Alliance and Texas Motor Speedway, the news release said, and will be "a solution to the area's underserved luxury hotel market."
The city of Roanoke expects The Peabody Roanoke, which will be next to the future new City Hall building, to be "an anchor to South Oak Street."
The hotel will be "a critical piece to the downtown mixed use project, and will create incredible synergy for the entire area," said Roanoke's city manager, Scott Campbell, in a prepared statement.