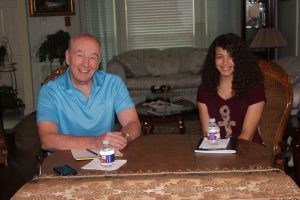 The great Irish playwright, critic and polemicist George Bernard Shaw is reputed to have said "It's a shame that youth is wasted on the young." With apologies to the famous phrasemaker, he never met Malora Millerborg.
The precocious 17 year-old Denton resident is a student at iSchool in Hickory Creek (an RES charter school). Since Malora is very interested in film-making, she attends iSchool because of their video production program, a profession she intends to pursue in college. In addition, she has played the piano for 9 years, composes her own music and is able to play by ear. She also played in the Denton Music Teachers Association ensemble.
Ms. Millerborg writes and illustrates short stories with her friends and started a writing group called the Kill Authors. Moreover, she's a member of the National Honor Society and went on two mission trips to Trinidad with Denton Bible Church. As if that's not enough, this ambitious youngster wrote a 174 page screenplay for a movie called "3 Survivors." Furthermore, the indefatigable teenager recently finished her first novel called "Sally Summers' Adventure," which her grandmother is helping her to get published. Malora has been mostly home schooled, with the exception of one year at Founders Classical Academy in Lewisville and one year at iSchool.
She was introduced to video production when she lived in Ventura, California three years ago and she attended a video production co-op class in which she co-wrote the screen play and directed the class film. While living in California, she and her family lived on a 46-foot sailing yacht in Ventura harbor. Malora, her sister Susannah, her brother Levi and her parents Ronica and Matt have lived in Denton for the past two years. In the accompanying video Malora talks about her accomplishments, her education and her future plans.
Bob Weir is a former NYPD officer, long-time Flower Mound resident and former local newspaper editor.