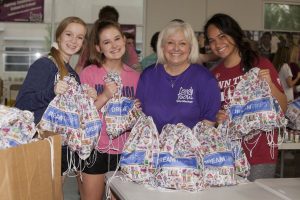 In southern Flower Mound, inside a warehouse owned by Mainfreight Transport, grey bins with a variety of non-perishable food are strategically placed.
Nearby stand multiple metal shelves and a truck backed-up to the dock. On selected days and evenings, groups of people walk by taking and placing the items in drawstring backpacks.
This is one of the homes of Food for the Soul, a non-profit organization launched in 2009 by Kimberly and Bob Sawler to fight childhood hunger. Since the couple first learned about the problem in the same Keller school their three children had attended, they have distributed 2.5-million meals and snacks; about 34,000-pounds each month.
What began at Bear Creek Intermediate School in Keller has spread to 14 schools in the Lewisville, Denton, Arlington, Dallas, Fort Worth and Irving school districts. The healthy snacks and meals will keep 1,700 students fed each weekend and beyond.
After starting out of their home and later at area churches, the Sawlers moved to a warehouse in Dallas five years ago. When that company asked for its space back in 2017, the organization was in a quandary until Mainfreight saw its plight on television and called to help. Last year a parent from Liberty Christian School provided an additional location in Denton.
"We originally had to cancel an order for 1,100 kids who were going to go without food," said Kimberly, the organization's executive director. "Mainfreight called us on Saturday and by Monday they said to come on in here. Normally it takes three weeks; and, we got the food on Wednesday– and nobody missed a meal. That was a miracle."
Sawler considers the entire journey a sign from above after reading the Bible passage, "feed the hungry, clothe the naked."
The Sawlers began with a clothing outreach with friends and family donating items, plus the Keller Lions Club letting them use their facility (a Quonset hut) for free to store the items.
"We had it looking like a department store and it was beautiful," she said. "Our sons and our daughter were outside with a sign that said, "free clothes."
Radio station KLTY mentioned the group's efforts and soon they had people arriving. Then, one woman approached Kimberly asking if she had any food and in return would clean her house.
"I cried like a baby and said, 'Lord, I didn't know there was hunger in Keller, Texas,'" said Sawler.
She went to the Keller ISD and asked if they were aware of any district students going hungry. The response was, "'Yes, guess how many?'"
She thought for a while and guessed 400 students. Their response at that time was 6,000.
"Now there's more than 8,000," Sawler said.
Back then, she said she still didn't "get it." She asked them what that 6,000 number meant.
"'They said, 'Miss Kim, when they go home Friday after lunch, until they come back to school on Monday, there are 65-hours where they could go without food,'" said Sawler. "I still didn't believe it. So, I went to Bear Creek Intermediate to see if anyone was hungry. We sent a letter to every student and 56 said, 'yes, they wanted food.'"
So, the Sawlers began raising money to purchase the food for those students. Thanks to a national grocer– that doesn't want its name revealed– Food for the Soul can purchase items at better prices than any local food bank. Sawler said it only takes $5 to feed a child for an entire weekend.
"Every $5 helps," she said. "We have donors who give $5, $10, $1,000. It just expands the reach."
Most funds come from individual donors, but there are some corporate sponsors, such as Classic Chevrolet Grapevine and Lanco Contacts in Denton. Food for the Soul also partners with other organizations– like SOS Local, Feed the Children and Children's Hunger Fund– for food donations.
Foods include soups, macaroni and cheese, ramen noodles, cereals, granola and fruit bars, cookies, Fruit Roll-Ups and Rice Krispy treats. All are placed in the string bags and packed 10-per-bin to take to the schools for distribution. Sometimes, they are provided at food pantries at the schools, including in the summer.
About five years ago, the pastor from The Gathering Church in Oak Cliff asked the Sawlers if they could feed a football team. Since then, they've been providing pre-game meals for Dallas Sunset High School and, even though the team has only won three games in that time, the players are grateful.
"They tell us, 'you give us hope that somebody cares,'" the pastor said. "And, eight of them have gone on to college; so, maybe they will pay it forward and help kids."
Partnering with The Way of Truth Church in Dallas, Food for the Soul has been able to feed its second football team at Dallas Kimball High School for the last two years, plus help donate to three elementary schools in that area.
Word of mouth has been the best way to let people know about Food for the Soul.
Once people are informed, they volunteer in private and public pack-outs to prepare the backpacks for future use. The new volunteers include school groups, businesses, school athletic teams and area chapters of the Young Men Service League.
Sawler hopes to raise enough money to help 2,300 students in the 2019-2020 school year.
"People can give up a latte a week to help feed the hungry," she said.
To learn more about Food for the Soul and how to help, visit: foodforthesoul.org, or its various Food for the Soul and Fighting Childhood Hunger social media outlets, including its new podcasts, the most recent of which features Dallas Cowboys Special Teams Coach Phillip Tanner.