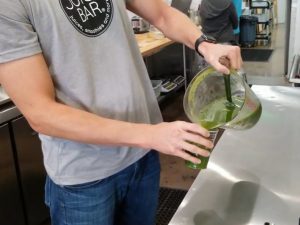 I Love Juice Bar – Flower Mound opened for business on May 10 to serve the community fresh juice, smoothies, power bowls and a variety of food items.
The juice is plant-based, gluten-free, and organic when possible using only whole fruits and vegetables.
Owner, Simon Telfer, decided to open an I Love Juice Bar franchise after his journey to live a healthy, fit lifestyle.
"I was inspired to start juicing on my own and quickly realized how great I felt. I woke up with energy and ready for the day," Simon said.
His favorite items on the menu are the green smoothie (made with pineapple, banana, kale, spinach, and lemon) and the pad thai noodles (sweet potato noodles, carrots, cilantro, cashews, and gluten-free thai peanut sauce).
"Whether you're looking for a quick smoothie on the go, a growler of fresh juice, or a full sit down meal, I Love Juice Bar offers great-tasting, super-nutritious juices, smoothies, and foods," said Simon. "It is an 'I want to eat healthy and feel great' type of place."
I Love Juice Bar is located next to Einstein Bagels at the southwest corner of FM 2499 and FM 1171 in Flower Mound, and is open Monday-Friday 7 a.m.-7 p.m., Saturday 8:30 a.m.-6 p.m., and Sunday 10 a.m.-5 p.m.