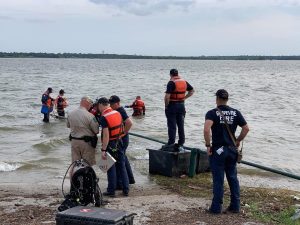 The Grapevine Fire Department responded to a drowning on Grapevine Lake in Rockledge Park, just south of Flower Mound, on Sunday afternoon.
The victim was 33-year-old Gerardo Mondragon of Wylie.
The call came in at 5:22 p.m. Upon arrival of GFD members worked with bystanders to learn the last seen point of a Hispanic male who was reported missing. Marine 1 also responded and began running sonar in the area. Members of the Grapevine Fire Department Dive Team began searching the area.
After an hour of searching, the dive operation became a recovery situation.
The Flower Mound Fire Department (FMFD) along with the Texas Parks and Wildlife Department Game Wardens (TPWD) arrived to assist with the search.
GFD and TPWD continued running their sonars over the area while FMFD patrolled to keep other boaters clear of the area. GFD Divers continued to check areas and were successful locating the victim.
TPWD along with the Grapevine Police Department worked with bystanders and family that were on scene.
"It only takes seconds for someone to disappear below the water, please wear a life jacket, learn to swim, have a swim buddy, and learn CPR, this will help you enjoy our local reservoirs, specifically Grapevine Lake," the fire department wrote on Facebook.