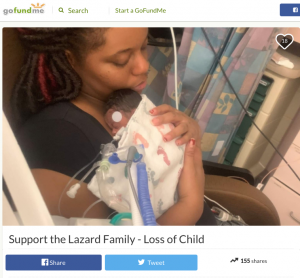 The community is rallying around a Highland Village police officer's family after the death of their baby girl.
Michael Lazard joined the Highland Village Police Department in October 2017. He married his wife, Porsha, last year and they became first-time parents in February when their daughter, Miracle, was unexpectedly born prematurely at only 27 weeks, according to HVPD.
"She was in the hospital under the best care, but she recently lost her fight for life on May 21st," the department wrote on social media. "Michael and Porsha … will need our love and support now more than ever. Not only will they have medical costs for Miracle's care, but they will also have the cost of her memorial and burial."
A GoFundMe online fundraiser has been established for the Lazard family. More than $1,300 was donated in the first seven hours.