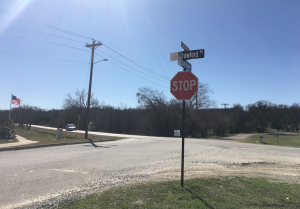 Argyle Public Works crews were evaluating some of the flood-prone areas and removing downed trees on Monday after experiencing roadway flooding over the weekend.
The town also used a temporary fix to repair some potholes at Crawford Road and John Paine Road, which had worsened from wash-out on Saturday, according to the town of Argyle. The town wants to repair them with hot-mix asphalt, but the asphalt plants were closed Monday, so crews repaired them with cold mix. They'll return with hot mix when the plants open again.
That intersection is included in the future repairs/reconstruction of Crawford Road that Argyle, the city of Denton and Denton County are planning together, according to the town of Argyle, but the town recognizes that additional repairs will be needed on Crawford Road before that reconstruction can begin.