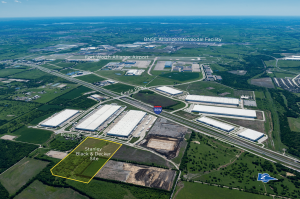 Stanley Black & Decker announced this week that it will build a manufacturing plant in southern Denton County, creating 500 manufacturing jobs in the area.
The CRAFTSMAN plant will break ground this fall near I-35W in far north Fort Worth, just on the Denton County side of the border with Tarrant County. It is expected to be completed in late 2020, according to a news release from Stanley Black & Decker.
The company also recently opened a 1.2-million-square-foot distribution center in Northlake, creating 300 jobs.
The new plant will manufacture a wide range of CRAFTSMAN mechanics tools, including sockets, ratchets, wrenches and general sets. The plant will also leverage some of the most advanced manufacturing technologies available to optimize productivity and sustainability, including pre-flattening steel technologies to improve material yield by almost 25% as well as water and energy management technologies to reduce resource consumption, according to the news release.