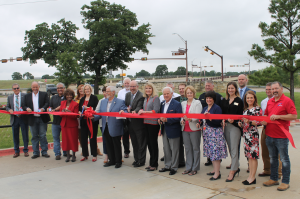 Denton County Commissioner Precinct 4 Dianne Edmondson, Commissioner Precinct 3 Bobbie Mitchell and area dignitaries cut the ribbon Thursday to commemorate the completion of the Hwy 114 main lanes/Hwy 170 safety project.
The project, initiated and overseen by Denton County Judge Andy Eads while he served as Denton County Precinct 4 Commissioner, adds an additional lane in each direction on Hwy 114 from east of Trophy Lake Drive to east of Kirkwood to ease congestion as well as an interchange at Hwy 170 at Parish Lane to enhance safety, according to a news release from Denton County. Started in mid-2016, the $38.7 million construction project was recently completed.
A number of entities collaborated on the project including the Texas Transportation Commission, the Regional Transportation Council, Texas Department of Transportation Dallas and Fort Worth Districts, five communities as well as Denton and Tarrant counties.
"This project is an example of improved mobility in the region due to partnerships Denton County shares with TxDOT and the Metropolitan Planning Organization as well as communities and neighboring counties," Edmondson said.
The road improvements will help accommodate nearby growth. The Charles Schwab & Co.'s Westlake campus will eventually house 6,000 employees, the Stanley Black & Decker distribution center in Northlake will open soon and the Tanger Outlets center at Hwy 114 and I-35W has been a major retail addition.
"As a result, this collaboration established the infrastructure for much of the economic growth we've experienced in recent years," Mitchell said.
Several dignitaries gathered for the event at Meat U Anywhere BBQ & Catering – Trophy Club. Among the crowd of more than 40 were Roanoke Mayor Scooter Gierisch and Trophy Club Mayor Nick Sanders as well as representatives from Westlake and the offices of Congressman Michael Burgess, Sen. Jane Nelson, Rep. Tan Parker, Rep. Lynn Stucky and Tarrant County Commissioner Precinct 3 Gary Fickes. TxDOT Denton Area Engineer Tina Massey also attended the event.
"We are here to celebrate the fact that all of us brought the SH 114 main lanes and the SH 170 safety project to the finish line," Massey said. "And it has been all about teamwork."